An enjoyable day with full of fun and adrenaline on the Köprüçay River with 8-10-person in Whitewater rafting boats...
Rafting Tour From Alanya to Manavgat Köprülü Canyon
This is not just a rafting tour! It is also a good opportunity to explore the unique nature of the Mediterranean and to see the historical sites of Köprülü Canyon.
Alanya Rafting Tour Price
| | |
| --- | --- |
| Tour Days | Everyday |
| Tour Duration | 10 Hours (Transport included) |
| Pick up Time | 08:30 (The exact pickup time is determined by your location.) |
| Tour Guide | En, De, Ru, Tr |
| Included | Insurance, transportation, tour guide, lunch, protective equipment (life jacket and helmet), paddle |
| Excluded | Drinks, photo and video shooting |
| Bring with You | Swimsuit, towel, sunscreen, spare T-shirt, sandals, or sea shoes, shower gel, shampoo, waterproof bag or phone case (for those who want to take their belongings with them when they get on the boat) |
Experiences of Alanya Rafting Tour
Rafting on the world's famous river of Köprüçay
Historical Oluk Bridge (Eurymedonndur) and Karabük Bridge visits
Walking in historical places, animation shows and taking pictures
Jumping to the river and swimming breaks and water activities
Exploring Köprülü Canyon National Park, which was declared a national park in 1973 and hosts the magnificent nature of the Mediterranean.
Program of Alanya Rafting Tour
Picking up from your hotel
Arriving at Köprülü Canyon rafting meeting point
Instructions of professional guides about the rafting tour
Delivering of equipment (lifejackets, helmets, paddles, etc.)
15-minute shuttle ride to the rafting starting point, to the historical roman bridge
The tour guide informs you about the historical places
Swimming break in the wonderful nature of Köprülü Canyon National Park, hiking, taking pictures
With asistance of guide , we get our boats and 2-person canoes
The first part of the 14 km Track is 7 km (There will be a guide accompanying you on each boat throughout the course.)
Swimming and resting break
The second part of the track is 7 km.
Lunch break, open buffet service (Grilled fish, chicken skewers, rice, potato salad, pasta, seasonal salad)
Video display of your photographs taken by our team while rafting
Return to the hotels
General İnformation About Alanya Rafting Tour
Rafting tour from Alanya will take about 4 hours. It takes place on the Köprüçay river in Beşkonak village of Manavgat district of Antalya. Rafting in Antalya is done only in the permitted Köprülü Canyon National Park. Although this track is referred to by many names (Manavgat, Karabük, Beşkonak, Köprülü, Köprüçay rafting), it is approximately a 14 km track between Oluk Bridge and Karabük Bridge. It covers international rafting difficulty levels 1, 2 and 3.
Adrenaline lovers, adventurers if you want more action, check out our advantageous tour packages including rafting tours and different tours.
Tips for First Time Rafting Tour
Although it may be frightening for our guests who will experience it for the first time, we answer the questions in your mind so that you feel safe and live the moment.
How to do rafting?
It is made with a 10-person whitewater boats and two-person R2 boats, suitable for the Köprülü canyon. It is a team sport that you will do by rowing under the commands of a guide who leads you. The aim is to stay in balance without capsize. It becomes fun with teamwork.
Is it safe to do rafting?
When you join the Alanya rafting tour, our company will provide you with equipment (helmet, life jacket, paddle) for your safety. Rafting course is 1-2-3 degrees. Therefore, there are no sections that will pose a risk on the track. Enjoy the adrenaline rush with our professional guide.
What is Whitewater Rafting?
Difficult waves, rocky rivers, it is a sport performed in more dangerous conditions. Requires more experience.
Cano Rafting – What is Kayaking?
Canoes are narrow boats. Canoe rafting-Kayaking, on the other hand, is a water sport where you can pass the narrow passages more easily. If you are experienced, you can do this fun sport with 2-person canoes in Köprülü Canyon.
Can children join a rafting tour?
You can join this activity as a family, as our tracks and equipment are also suitable for children. The age limit for children is 5. But the season is of great importance. The age limit may change depending on the state of the water level. Do not forget to get information while you decide to join the Alanya rafting tour.
Who can join the rafting tour?
There is no need to be a professional to do rafting. No previous experience is required. Anyone without health problems can do this sport.
Is it suitable for pregnants?
it is a very active tour, it is not recommended to join this tour if you are pregnant or think you are pregnant.
What are the rafting difficulty Degrees?
Degree 1: There is weak flow of water. It is a simple course that children will like..
Degree 2: It is regular and the streams are less. There are small rocks that are not dangerous.
Degree 3: : It is one of the tracks that amateurs will love. Medium difficulty.
Degree 4: They are rivers full of cliffs with harsh crossings and obstructions. Although there are small risks for amateurs, it should not be done for the first experience.
Degree 5: The track that is impossible for amateurs. Strong water flow, hard and large rocks, steep slopes, sequential falls. Crossings full of obstacles.
Degree 6: The track considered impossible even for professionals.
Alanya Rafting
If you're looking for an adventure tour in Alanya, then the Best of Alanya Rafting & Buggy Safari Tour is for you. This full-day excursion offers two thrilling activities that are guaranteed to raise your adrenaline levels and keep you giggling the whole day long. In addition to being a great way to see the beautiful nature of the national park, these tours are great for a family outing away from the crowds.
The Best Alanya River Rafting 2022
When you decide to do white water Alanya Rafting, you have several options. You can take a one-day tour that includes a walk through a green canyon and rafting down the Koprulu River. There are many activities you can enjoy while you are in Alanya, including cliff jumping, bungee jumping, and swimming in one of the picturesque locations.
You should know that a day of Alanya Rafting is long and filled with adrenaline.
You'll have a blast, and your day can last from morning until night.
In addition to the rafting itself, the day will include a hearty lunch in a local Turkish restaurant.
The meal is served buffet style, and you'll find chicken, rice, spaghetti, and fresh vegetable salads for your main course.
Alanya Rafting Tour
If you're looking for a unique and fun activity while in Alanya, then consider booking an
Alanya rafting tour
. You'll be picked up from your hotel and driven to a meeting station, where you will be briefed by an experienced rafting instructor. After getting a briefing, you'll get to float down the river on a raft with up to ten other people!
Alanya Rafting tour is a great way to beat the summer heat.
The Koprulu Canyon is one of the best places in Turkey for white water rafting, and this tour runs through it.
The canyon is home to many fascinating species of flora and fauna, including sea turtles and famous owls.
The river is classified as level three, so everyone in your group can enjoy it.
Alanya Rafting Tour Prices
Whether you are looking for an outdoor adventure or simply want to experience the tranquility of the Mediterranean nature, Alanya rafting tours are the perfect solution. You can experience the thrill of rafting and swim in the refreshing waters.
The best part is that the activity is suitable for all ages and is perfectly safe. You can raft with your family, your friends, and your significant other. Alanya rafting tour prices will vary, but the experience is worth the money.
Alanya Rafting & Buggy Safari Tour
For an exciting activity on the Turkish coast, you should book an Alanya Rafting & Buggy Safari Tour. This excursion offers both activities in one day. The rafting tour takes place in the Koprulu Canyon and you will be picked up from your hotel in an air-conditioned bus. The tour includes an explanation of the safety equipment and safety procedures by professional rafting instructors.
The Alanya Rafting tour is followed by a thrilling buggy safari.
The buggy driver is briefed by a professional instructor before the tour.
The Alanya Rafting activity is followed by a dusty and wet 13km path. The rafting tour includes numerous short breaks, including lunch. Rafting is best suited for active people, while the buggy safari is best for children aged three and up.
River Rafting in Alanya
If you love the thrill of the water and adrenaline rush, try River Rafting in Alanya! Just a 2-hour drive from Alanya, you will be enthralled by the thrill of rafting. Every boat will have a private instructor who will explain the rules of the activity and give special instructions for you and your fellow rafters. Then, you'll head for the water.
The first part of your Alanya Rafting tour will begin with a safety briefing.
Tour operators provide you with life jackets and helmets, making the activity entirely safe for you.
Afterward, you will take a walk in Koprulu Canyon and admire the magnificent cliffs.
While you're on this tour, you can enjoy some active entertainment and swim in the mountain river!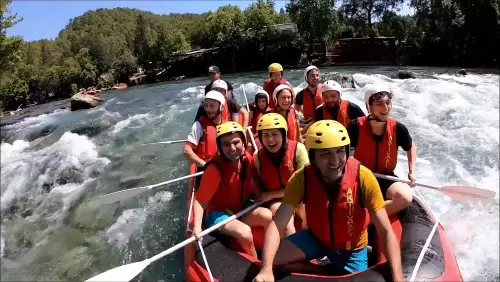 Alanya Rafting Tour Reservation Form
Fill out the form completely for Alanya Rafting Tour