It is a verdant national park with 7 lakes and waterfalls.
Kursunlu Waterfall National Park Trip from Alanya
One of the most popular tour where you will visit the most magnificent ancient cities of Anatolia and the unique Kurşunlu Waterfall.
Kursunlu Waterfall, Aspendos and Side Tour Price
| | |
| --- | --- |
| Tour Days | Please ask |
| Tour Duration | 10 Hours (Transport included) |
| Pick up Time | 08:00 (The exact pickup time is determined by your location.) |
| Tour Guide | En, De, Ru, Tr |
| Included | Insurance, transportation, lunch, tour guide, entrance fees to museums and ancient sites |
| Excluded | Drinks and personal expenses |
| Bring with You | Camera, sunglasses, sunscreen, hat, comfortable clothes |
Experiences of Kurşunlu Aspendos Side Tour from Alanya
See the Ancient City of Side, which has hosted many civilizations throughout history.
Visit the Temple of Apollo at the Side Ancient City Harbor.
Visit the 3000-year-old Aspendos Ancient City and Anatolia's largest and most intact ancient theater.
Spend a day in nature at Kurşunlu Waterfall National Park, where you can see the natural beauties and diversity of life of the Mediterranean in the best way possible.
Discover nature with wooden walking paths in Kurşunlu Waterfall National Park.
Program of Kurşunlu Aspendos Side Tour from Alanya
Pick up from the hotel.
Aspendos Ancient City Tour.
Taking a walk at the streets of Aspendos and castle walls.
Ancient buildings and ancient ruins are examined.
The tour guide informs you about Aspendos.
Leaving from Aspendos Theater and seting off towards the Side Ancient City.
Walking in Side's ancient streets and visiting ancient houses.
Visiting of the Side Ancient Theater of the Roman Period.
You will be informed about the history and structure of the ancient theater by the tour guide.
Free time is given for photo and video shooting.
Go to the Temple of Apollo.
Free time to wander around and take pictures.
Visiting the Temple of Dionysus.
Lunch break near Side Antique City.
Getting on the service vehicles and set off for Kurşunlu.
Kursunlu national park tour
Photo and video shoots at the waterfall.
You discover nature and if you want, you can enter the lakes.
Return to Alanya
General İnformation About Kursunlu Waterfall, Aspendos and Side Tour
With this tour, which combines culture and nature, you visit Side Antique City, Aspendos Antique Theater and Kurşunlu Waterfall from Alanya.
Detailed cultural and historical explanations will be given by the tour guide in all the places you will visit. Special time will be given for you to take aphoto and video by the tour guide.
It is a day trip activity that families with children can participate in. Lunch break is eaten at a nice restaurant in Side peninsula.
Below we have explained the places to visit with this tour.
Kurşunlu Waterfall National Park Trip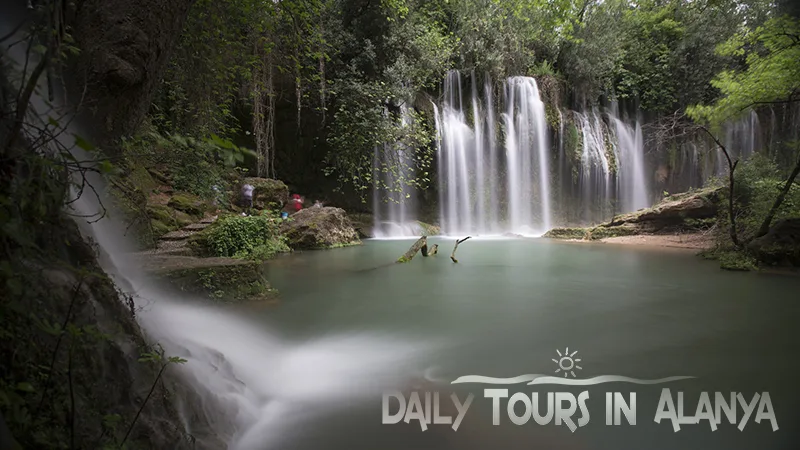 Kurşunlu Waterfall National Park, which is 120 kilometers away from Alanya, is the largest national park in Antalya with an area of 33 hectares and having a diversity of flora and fauna. The climatic characteristics and geological differences of the region have made the national park privileged.
It is the most important natural area of the region in terms of eco tourism. About half a million people visit this park every year. In addition, this number is increasing every year.
General features: There are 7 lakes in the national park. These lakes are connected to each other by waterfalls in the canyon. The depth of the canyon is 40 meters and its length is 2 kilometers. It is one of the most important natural places to see in Antalya.
The waterfalls are active in all twelve months of the year. The highest waterfall is poured from 18 meter heights. There is a hidden cave right behind this waterfall. The cave is open to visitors. There is also a 250-year-old water mill near the waterfalls.
Fauna: It is the habitat of more than 100 bird species and large mammals. Since the park is under protection, the diversity of animals is high. Although there is no endemic species living in the national park, almost all living things living in the Mediterranean climate are found in this park. Therefore, it is also an important place for eco-tourism.
While walking in Kurşunlu nature park, you may encounter rabbits, squirrels, woodpeckers, turtles and other small animals.
Flora: Red pine forests are the dominant species in the national park. Many species of maquis plants live here. Various aquatic plants are also found due to the surrounding lakes.
Facilities: There are facilities for various activities and needs in the national park. These facilities are built in a way that does not disturb the ecological balance.
Below we have listed the services available in Kurşunlu National Park.
Wooden Walkways
Hammocks and gazebos
Picnic areas
Plant Tunnel
Lake parks and wooden bridges
children's playgrounds
Scenery Terraces
Waterfall Viewing Terraces
Car park
Cafes and Restaurants
Shower and toilet stations
Side Ancient City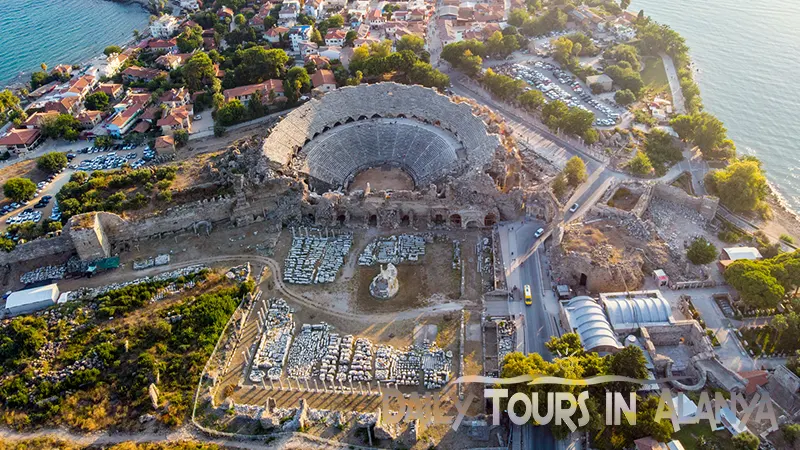 It was the most important trade and port city of Pamphylia in ancient times. In the Ancient City of Side, you will visit historical structures and artifacts such as the Temple of Apollo, the Side Museum, the ancient theater and the Nemorum Fountain.
The ancient city is one of the most important historical places to visit in Alanya. This city, where various civilizations have lived for thousands of years, fascinates its visitors both with its architecture and location.
Aspendos Ancient Theater
It is the best preserved Roman theater in Anatolia. It is the most intact theater that has survived from the Hellenistic period. The theater has an extremely good acoustic structure. This theater is much larger than other ancient theaters With its 15.00-person lodges, two-storey stage and podium. Within the scope of the tour, the ancient city and museum around the theater will also be visited.
In Aspendos Ancient City, there are structures such as agora, theatre, basilica, aqueduct, nympheun (monumental fountain), stadium, baths, cisterns and shops.
You are free to take photos and videos in the Aspendos Theater and in the ancient city.
Within the scope of this tour, we visit three main touristic places. These are Kurşunlu National Park, Aspendos Antique Theater and Side Antique City. We have another tour program similar to this tour. The only difference from this tour is to go to Manavgat waterfall instead of Kurşunlu waterfall.
Manavgat waterfall Side Aspendos tour from Alanya is more preferred because the transportation from Alanya to Manavgat takes less time than Kurşunlu.
If your time is limited, we recommend you to go on this tour.
Kurşunlu Aspendos Side Tour from Alanya Reservation Form
Fill out the form completely for Kursunlu Waterfall, Aspendos and Side Tour