Pay less and consume more with all inclusive.
Unlimited Drinks on The All Inclusive Party Boat in Alanya
Take advantage of the Alanya all inclusive night party boat tour.
Alanya All Inclusive Night Party Boat Tour Price
| | |
| --- | --- |
| Tour Days | Please ask |
| Tour Duration | 4 hours (Transport included) |
| Transfer | (Transport included) |
| Pick up Time | 20:30 (The exact pickup time is determined by your location.) |
| Tour Begins at | 22:00 |
| Drop-Off Time | 01:30 (Approximately) |
| Instant Confirmation | Yes |
| Tour Guide | En, De, Ru, Tr |
| Included | Transfer, guide, lunch (grilled chicken, sausage, spaghetti, french fries, salad), unlimited wine and beer (for unlimited alcohol tickets), unlimited soft drinks, kids face painting, fire show, animations, foam party |
| Excluded | Alcoholic beverages other than beer and wine, cocktails, market |
| Bring with You | Comfortable clothes, Camera |
Experiences of Alanya All Inclusive Night Party Boat Tour
Have a different nightclub experience with the pirate boat night party.
In addition to the nightclub entertainment, Watch the fire show and dance performances and join the foam party.
Watch the night silhouette of Alanya from the sea.
Consume as much drink as you want by paying less with the all-inclusive concept.
Program of Alanya All Inclusive Night Party Boat Tour
You will be picked up from your hotel or your address at around 20:30 in the evening.
At 21:00 you will be at the seaport.
The Night Party boat is waiting for you in all its glory.
The night party starts with all the guests getting on the boat.
Music is made by professional DJ.
There are two bars on the boat, one on the ground floor and one on the upper floor.
Beverage service begins with the start of the all inclusive night party boat tour.
Beer, wine and soft drinks are free and unlimited throughout the night.
The night shows start with the dance performance of the animators.
A fire show is held about an hour after leaving the port.
The party continues with laser shows and light shows.
After that, the foam party starts.
The second laser show starts with the foams.
During the tour, the fun never stops on the boat.
The boat is constantly moving. You will have the opportunity to watch the night view of Alanya from every direction.
At 01:00 at night, the boat returns to Alanya harbor.
When you get off the boat, service vehicles meet you.
You will be dropped off at your hotel or the address at around 01:30.
Things to Keep in Mind
No cigarettes are sold on the boat. Please bring it with you.
Alanya Daytime Boat Tours
Choose your day, sunset, or night boat tour by viewing. Don't encounter a different boat at the harbor than you selected.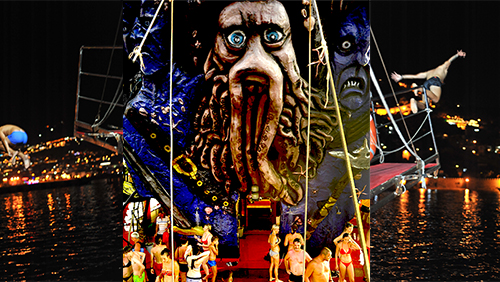 Alanya All Inclusive Night Party Boat Tour Reservation Form
Fill out the form completely for Alanya All Inclusive Night Party Boat Tour