Immerse yourself in the pure thrill of rafting in Alanya, amidst the spectacular waters of the Köprülü Canyon.
Rafting in Alanya
Experience an adrenaline-filled rafting adventure on the Köprüçay River with our Whitewater boats accommodating 2-6-8-10-12 people.
Exciting Alanya Tours Including Rafting
With our tours that include rafting, step into the unique experiences waiting for you at the intersection of nature and adventure. Reserve your spot right away and don't miss out on this unique adventure!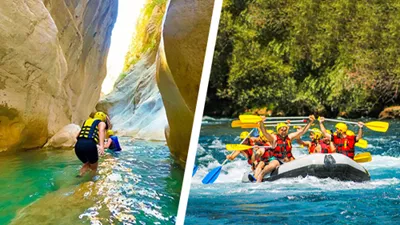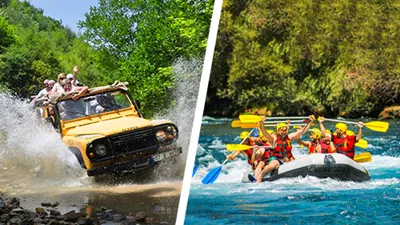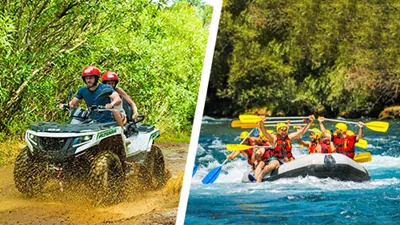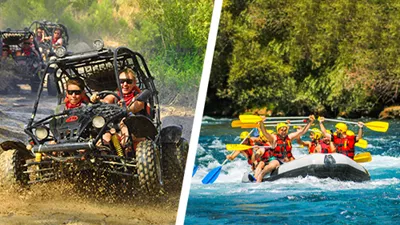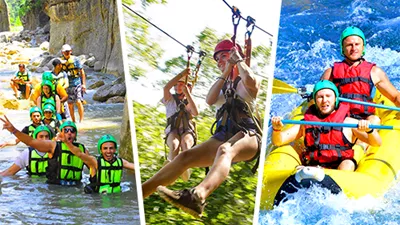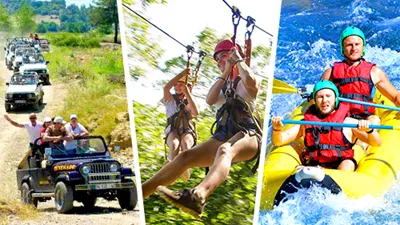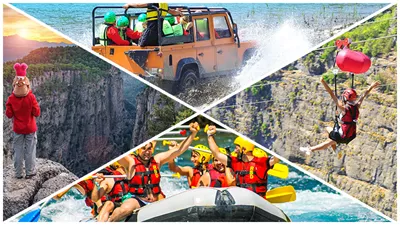 Mon
Tue
Wed
Thu
Fri
Sat
Sun
All Combo Rafting Packages in Alanya Are Here
Alanya Combo Rafting Tours
Color your Rafting in Alanya adventure with combo tours.
What we want to emphasize with the word "combo" here is that, in addition to the rafting activity, various other activities can also be performed. Thanks to the continuous flow of the Köprüçay River, hosted by the green Toros mountains and high canyons, the Köprülü Canyon provides the opportunity for many different activities in addition to the Rafting in Alanya tour.
The activities in the Köprülü Canyon region of Alanya can be divided into two categories: nature activities based on the unique natural beauties of the region and adrenaline-charged activities.
Köprülü Canyon Nature Activities in Alanya
There are different nature activities performed in the region apart from Rafting in Alanya. Various canyon tours, nature walks in rocky areas along the river are among these activities. Here are some nature activities carried out in the region:
Canyoning in Adler Canyon
Canyoning in Tazı Canyon
Adam Rocks Tour
Selge Ancient Theatre Tour
Köprülü Canyon Adrenaline Activities in Alanya
The natural conditions of the region host a wide variety of adrenaline-filled activities. Activities like Rafting in Alanya are especially ideal for the region. Here are some adrenaline-charged activities carried out in the Köprülü Canyon region of Alanya:
Rafting in Alanya
Zipline
Buggy Safari
ATV Safari
Jeep Safari
In addition to this flawless Rafting in Alanya experience, you can also participate in other adrenaline and discovery-filled activities offered by nature. We invite you to experience these activities in the captivating Köprülü Canyon region of Alanya.
Now, if you like, let's give summarizing information about Alanya combo rafting tours.
Alanya Rafting Tours and Combo Packages
In Köprülü Canyon of Alanya, in addition to the classic Rafting in Alanya tour, there are various combo packages. All the details of Rafting in Alanya tours have been explained in detail under the heading 'Alanya Rafting Tours' above. However, you can find the list of combo tours below to quickly review the Rafting in Alanya options.
Combo Tours Including Rafting
Rafting only
Rafting + Canyoning
Rafting + Jeep Safari
Rafting + Quad Safari
Rafting + Buggy Safari
Rafting + Canyoning + Zipline (600 meters)
Rafting + Jeep Safari + Zipline (600 meters)
Rafting + Jeep Safari + Adler Tour
Rafting + Jeep Safari + Tazı Canyon
Rafting + Jeep Safari + Tazı Canyon + Large Zipline (2000 meters)
Rafting + Jeep Safari + Quad Safari + Zipline + Fishing
Rafting + Jeep Safari + Buggy Safari + Zipline + Fishing
Combo Tours Without Rafting
Tazı Canyon + Adam Rocks + Selge Ancient Theatre + Jeep Safari
Tazı Canyon + Adam Rocks + Selge Ancient Theatre + Jeep Safari + Large Zipline (2000 meters)
Thanks to the combo packages we offer, in addition to the Rafting in Alanya experience, you can participate in other activities in Köprülü Canyon and explore the natural beauties of Alanya in the best way.
Alanya Rafting Tour Prices
The pricing of the rafting in Alanya activity is quite reasonable compared to other types of activities when considering the high demand and the numerous rafting companies operating in the Köprülü Canyon region. The Alanya rafting prices that we have set as Dailytoursinalanya.com are parallel with the general average prices in the industry. It wouldn't be accurate to say that we offer the lowest prices; our goal is to collaborate with the best rafting stations to provide our customers with the highest quality service. You will clearly notice the quality difference between our company and others when you join the rafting tour in Alanya.
At the moment, you can purchase the Alanya rafting tour by paying . You make the payment at the rafting station. Please note that is the adult price for over 12 years old. Participants between the ages of 6 and 12 pay half this price. No fee is charged for infants and children between the ages of 0 and 6.
Of course, everyone wants to buy the Alanya rafting tour at the most affordable price. However, many people may experience dissatisfaction afterwards when they make a tour selection without knowing the difference in service quality between rafting companies. Therefore, we strongly recommend that you be careful in choosing which company to prefer.
The Alanya rafting tour we offer provides an unforgettable day by offering a fun and affordable experience.
Alanya Combo Rafting Prices
Our Alanya combo rafting packages provide a more comprehensive and thrilling experience by offering multiple activities together. The pricing of these packages varies depending on the number and type of activities included in the package. It should also be noted that some of our Alanya combo rafting tours are organized on certain days of the week. We have listed the Alanya combo rafting prices below.
Our various Alanya combo rafting packages cater to everyone with different interests and levels of adventure. Each of our packages guarantees an unforgettable Alanya rafting tour experience.
Don't leave any question unanswered.
Frequently Asked Questions about rafting in Alanya
We have compiled the most frequently asked questions about rafting in Alanya for you. Don't hesitate to write to us for more information.
Where is the Alanya rafting tour conducted?
The answer to the frequently asked question by adrenaline and nature lovers, "Where is the Alanya Rafting Tour conducted?" is: Köprüçay Manavgat. The heart of the Alanya rafting experience beats here. The transportation time from the center of Alanya to Köprüçay Manavgat is approximately 2 hours. But this is not a boring journey, rather, it's an enjoyable adventure. Because a significant part of the journey takes place on Antalya's panoramic D400 highway. This enjoyable route makes your driving experience extremely comfortable.
After leaving the D400, as you proceed towards the Köprülü Canyon, the breathtaking natural scenery that you encounter will be just one of the details that will make your rafting in Alanya experience unforgettable. This route filled with unique beauties offers an experience where you won't notice how time passes.
Remember to set aside a day to fully experience Alanya rafting tours. Because Köprülü Canyon is not only a great area for rafting in Alanya, but also for a range of different nature activities. The Alanya rafting experience offers the opportunity to experience many different nature activities in addition to rafting.
Is experience required for a Rafting in Alanya tour?
Even if it might seem concerning for first-time participants, you can feel perfectly safe. The rafting course at Köprülü Canyon is not powerful enough to flip the rafting boats. Furthermore, there is a leader on each boat who controls the boat's direction and rowing. So, even if you've never experienced rafting before, a Rafting in Alanya tour will be suitable for you. You can participate, no experience is necessary.
Can non-swimmers participate in the Alanya Rafting tour?
All rafting participants are required to wear a helmet, sea shoes, and life jacket. As the boat won't capsize, you can get off the boat in shallow waters and swim as you please. In deep areas, the life jacket you wear will keep you afloat. Therefore, even non-swimmers can participate in the Rafting in Alanya tour.
Can children participate in the Alanya Rafting tour?
Since our courses and equipment are suitable for children, the Alanya Rafting activity is an experience that the whole family can participate in. The age limit for children is 5, but this can change depending on the water level and seasonal conditions. Therefore, don't forget to get information before participating in the Rafting in Alanya tour.
Is the Rafting in Alanya tour suitable for pregnant women?
If you are pregnant or think you might be pregnant, it is not advised to participate in the Alanya Rafting activity, which involves movement and physical challenges.
Is it safe to go rafting in Alanya?
The difficulty levels of rafting courses according to world standards are explained below.
Grade 1: There are very slight currents. It's a simple course that children will enjoy.
Grade 2: There are regular and minor currents. Non-dangerous small rocks are present.
Grade 3: This is a course that amateurs will enjoy. It's moderately difficult.
Grade 4: These are rivers filled with harsh passages and a lot of rocks. There might be minor risks for amateurs, and it's not recommended for first-time experiences.
Grade 5: This course is impossible for amateurs. It has high discharge and current, harsh and large rocks, steep slopes, sequential falls. It's filled with obstacles.
Grade 6: These are considered impossible courses that even challenge professionals.
The Alanya Rafting tour includes simple and intermediate course grades 1, 2, and 3. Therefore, rafting in Alanya is safe.