Ultra luxury living spaces, friendly staff, Quality service
Watch the Sunset in Alanya in Pleasure and Luxury
After sunset, the dance party awaits you.
Big Kral Sunset Boat Tour Price
| | |
| --- | --- |
| Tour Days | Please ask |
| Tour Duration | 5 hours (Transport included) |
| Transfer | (Transport included) |
| Pick up Time | 17:00 (The exact pickup time is determined by your location.) |
| Tour Begins at | 18:00 |
| Drop-Off Time | 22:00 (Approximately) |
| Instant Confirmation | Yes |
| Tour Guide | En, De, Ru, Tr |
| Included | Transfer, insurance, guidance, all animations, kids club, beer, wine and soft drinks (original), open buffet (baked chicken, rice, spaghetti, mashed potatoes, russian salad, purslane salad, shepherd's salad, haydari and seasonal fruits) |
| Excluded | Alcoholic beverages excluding beer and wine, photographer, market |
| Bring with You | Camera, swimsuits, spare clothes for after sunset party. (there is a changing cabin on the boat) |
Experiences of Big Kral Sunset Boat Tour
Watch the sunset in Alanya on an ultra-luxury boat from Karaburun Bay.
Go to the bays in Alanya where other boats do not go.
Feel the quality in every moment of the ultra-luxury boat. You will feel privileged.
Experience a festive tour with fireworks displays and professional fire shows, which are only available in Big King.
Spend hours having fun from start to finish and adding happiness to you and your family.
Program of Big Kral Sunset Boat Tour
You will be picked up from your hotel or your address between 17:15 - 17:45.
Arrive at the port at 17:50.
At around 18:00 you get on the ultra-luxury boat called Big Kral. Animation team welcomes you at the entrance of the boat.
The ladies in our animation team take your children to the mini club for face painting and bandana activity.
Snacks and drinks are served at the boat entrance.
During the sunset tour, soft drinks, beer and wine are free and unlimited in the boat. Also all drinks are original.
At 18:00 the boat leaves the port. After 40 minutes, the boat arrives at Pegasus Island.
Takes 30 minute swimming break on Pegasus Island. Sea creatures around the island can be easily observed from the boat.
This is a safe place where you can easily swim with your children.
After the swimming break, animations for your children start in the mini club. Group games are played. Various competitions are held and gifts are given. It is ensured that the children meet each other and have a good time.
While the children are having fun, animations for adults begin on the other side of the boat. Fun group games are played. Competitions are organized. Gifts are distributed.
The boat goes towards Karaburun Island. If you are lucky on the way, you can see the caretta carettas and dolphins.
20 minutes swimming break at Karaburun island.
Karaburun is a place worth seeing with both its natural beauty and the ancient ruins it contains. This is the main reason why we have dinner in Karaburun.
Gün batımında bir yanda el değmemiş doğa, diğer yanda kızıl güneşin huzur veren ışıkları kendinizi bambaşka bir gezegende hissetmenizi sağlayacak.
While you are having your meal, you will watch the unique view of the sunset and the green slopes of Karaburun.
Our professional photographers take pictures of you to immortalize this unique view. Of course, you can take your own photos if you wish.
After sunset, the fun begins. The nightclub mode is switched to accompanied by a DJ performance.
After the fireworks show, the boat sets off again.
Then you watch the fire show of the animators.
The sunset boat tour continues with foam party, dance and music.
The captain gives another swimming break at a place he sees fit for 20 minutes.
Then the boat continues towards the harbour.
At around 22:00 the boat enters the seaport. Thus, the sunset boat tour ends
When you get off the boat, our land staff will meet you for transfer.
You will be dropped off at your hotel or at your address.
Things to Keep in Mind
No cigarettes are sold on the boat. Please bring it with you when you come.
Alanya Daytime Boat Tours
Choose your day, sunset, or night boat tour by viewing. Don't encounter a different boat at the harbor than you selected.
General İnformation About Big Kral Sunset Boat Tour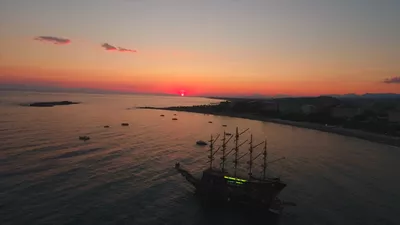 We are aware. Big Kral sunset boat tour is more expensive than other boat tours. You might be thinking, "After all, all boats are in the same sea. Why should I pay more?" We hope you don't have to go through a bad boat tour experience to understand why you're paying more. The purpose of writing this article is to inform you about this.
We have explained to you the highlights of the Big Kral in items, below.
7 Reasons to Prefer Big Kral Boat
The Big Kral is Europe's largest and most luxurious pirate boat. Naturally, a boat with such a title cannot be expected to compromise on service quality.
Other tour boats do not go to the islands and bays visited on the Big Kral sunset tour. All other boats are side by side around Alanya. Conversely, Big Kral does not spare any expense and takes you to the most beautiful bays and islands of Alanya.
Unlike many other boats, all drinks served in Big Kral are original. The buffet food menu is richer than all other boats.
Big Kral staff consists of experts and experienced people in the field. The animation team is at least in the quality of the animation teams in five-star hotels.
Fireworks shows and professional fire shows are only found in Big Kral in Alanya.
The living spaces on the boat are of luxury yacht quality. Common areas are constantly cleaned.
It is the only boat that offers mini club service all day long. Your children are in safe areas and under constant surveillance. Mini club activities continue throughout the day.
Most of us go on vacation once a year. We recommend that you consider the above criteria when choosing a boat tour where you will relieve the tiredness of the whole year.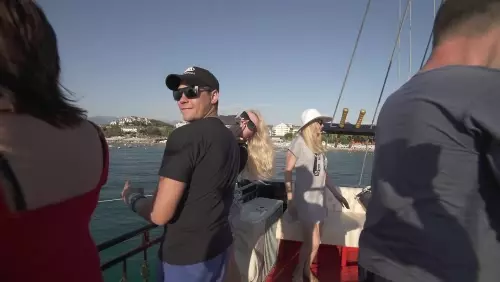 Big Kral Sunset Boat Tour Reservation Form
Fill out the form completely for Big Kral Sunset Boat Tour