2 days and 1 night stay in authentic hotels on Cappadocia tour.
2 Days 1 Night Stay from Alanya to Cappadocia
Alanya to Cappadocia tour with a professional guide at affordable prices.
Cappadocia Tour from Alanya Price
Standart Ticket
Blue Ticket
( Entry fees included )
Red Ticket
( Entrance fees and two lunches included )
2-Day Cappadocia Tour Extras
Göreme Open Air Museum: € 12
Serhatlı Underground: € 2
Laser Show: € 30
Turkish Night: € 35
Lunch: € 12
Balloon: € 350
Balon Panorama: € 25
Single room charge: € 15
Tour Days
Monday, Thursday, Saturday
Tour Duration
2 Days 1 Night Stay (Transport included)
Transfer
(Transport included)
Pick up Time
03:30 (The exact pickup time is determined by your location.)
Tour Begins at
07:00
Drop-Off Time
19:00 (Approximately)
Instant Confirmation
Yes
Tour Guide
En, Ru
Included

Standard Ticket: Professional tour guide, transportation, insurance, 1 night accommodation in a 4-star hotel, breakfast and dinner

Blue Ticket: Standard ticket + entrance tickets to Saratlı underground city and Çavuşin church

Red Ticket: Standard ticket + Saratlı underground city and Çavuşin church entrance tickets + 2 lunches

Excluded
Personal expenses, drinks, breakfast on the first day, Cappadocia hot air balloon tour, Turkish night, Göreme open air museum, laser show, balloon panorama, Tatlarin underground city
Bring with You
Comfortable clothes and walking shoes, hat, sunglasses, sunscreen, camera
Experiences of Cappadocia Tour from Alanya
Learn about the formation of fairy chimneys, learn about the legends of Cappadocia.
Watch the sunrise and the magnificent view of Cappadocia from a height of 1000 meters from the land with the Cappadocia balloon tour. Enjoy the joy of soaring into the sky with hundreds of colorful balloons around you.
Observe the developing human culture and history on site.
Discover the monks' havens, their habitats in underground cities.
See Uchisar Castle, which resembles a skyscraper with its structure.
Collect amazing memories with panoramic photos.
Program of Cappadocia Tour from Alanya
Day one
Pickup from the addresses you are in or the hotels you've stayed at
Breakfast break in the Taurus mountains
Arrival to Cappadocia Region via Seydişehir
Visit to the Underground city of Saratlı
Lunch in Uçhisar
Uchisar Castle
Göreme Open Air Museum
Guvercinlik Valley
Paşabagi (Valley of the Priests)
Devrent valley (Pink Valley, Dream Valley)
Visit Avanos Kızılırmak
Turkish delight center visit
Pottery Workshop
Arrival at the hotel and dinner
If you wish, you can participate in "Turkish Night" or "Sema Ceremony of Dervishes".
Day Two
Balloon transfer
Rock Church
Valley of Lovers (Valley of Love)
Onyx Leather Store
Caravanserai
Lunch in Konya
Return with a rest break in Seydişehir or the Taurus Mountains
Arrival in Alanya
Our tour ends when you are dropped off at your accommodation.
Things to Keep in Mind
The guests agree that they will stick to the tour program and will only participate in the balloon tour through the contracted balloon company.
General İnformation About Cappadocia Tour from Alanya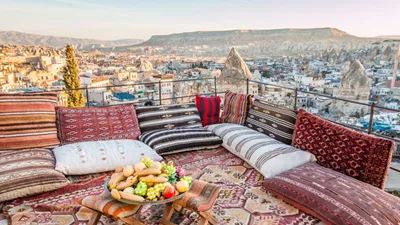 Before you go on cultural trips, researching the places you will see and making the right descriptions always make you enjoy more.
We have compiled for you the places included in the Alanya to Cappadocia Tour program and the places you will visit and see in the Cappadocia region.
History of Cappadocia
Cappadocia was formed by the lava eruption of Erciyes Mountain, Güllüdağ and Hasan Mountain. It took millions of years to form. Over time, lava and ashes turned into tuffs. Then, it took its present appearance with the erosion of flood, rain water and wind.
Cappadocia, which has great historical importance, has hosted many civilizations. Since it is located on the Silk Road route, it has also been a bridge between countries in terms of trade and social. The first written source is found in the Hittite period. Later, it came under the rule of Persians, Romans, Seljuks and Ottomans, respectively. During the Persians, it was named Cappadocia, which means "Land of Beautiful Horses". It lived in its most trouble-free state during the Ottoman period. With the Treaty of Lausanne, the Christians migrated from here.
If you have more time to visit Cappadocia, you can also join the 3 day Cappadocia tour from Alanya program.
Places to Visit on Cappadocia Tour from Alanya
Cappadocia covers a region spread primarily to Nevşehir, Kırşehir, Niğde, Aksaray and Kayseri provinces. Avanos consists of six regions: Çavuşin, Ürgüp, Göreme, Uçhisar and Ortahisar. Now, let's give you detailed information about the places you should visit and see in Cappadocia.
Places to Visit in Avanos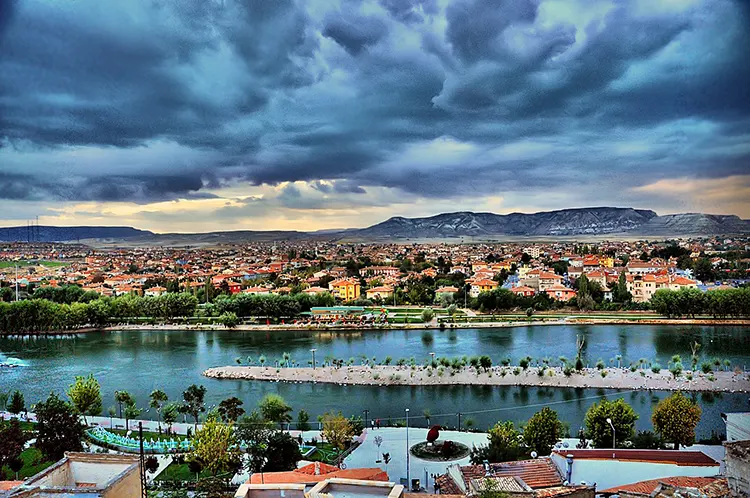 Although it is known by many different names in history, it is possible to see names such as Venassa, Evranos, Zuwinasa or Ouenasa on the signs.
Below, we have listed the places to visit in Avanosta during your Alanya to Cappadocia tour.
Stone bridge
The historical stone bridge that greets you when you enter Avanos and has survived to the present day without any wear. Its construction started in 1898 with the contributions of Kurena Arif Bey from Avanos, and it started service in 1900. It was built on 11 feet.
Wooden Bridge(Swinging Bridge)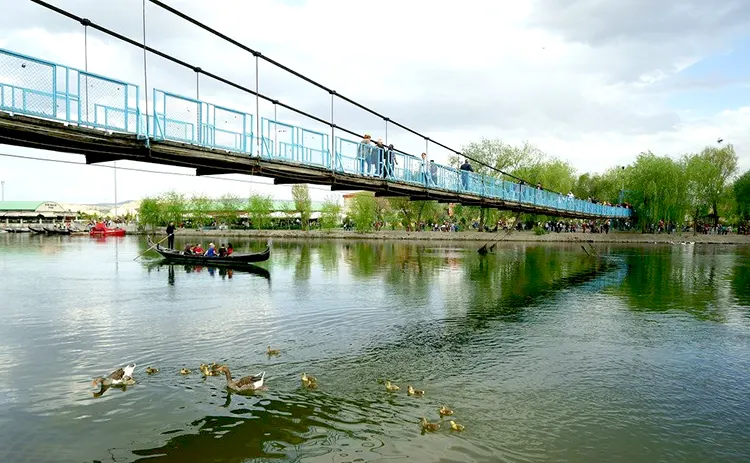 It was built in 1973. It is 180 m long. It allows you to visit both sides of the Kızılırmak River.
Hair Museum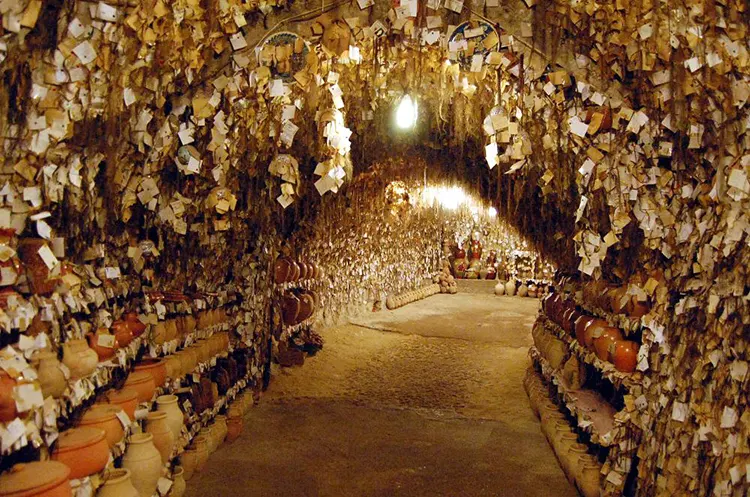 It is one of the museums that we recommend you to listen to when you go to its legend. So much so that it ranks 6th out of the 15 most interesting museums in the world. It entered the Guinness Book of Records. There are more than 16 thousand strands of hair in the museum. It occupies a small part of the Chez Galip Workshop.
In 1979, a French woman tourist came to Galip Körükçü's pottery workshop and in time, an emotional rapprochement began between them. The French woman stays for 3 months and has to go back to her country. She wants to leave a memory of herself in order not to be forgotten. She leaves a lock of her hair. The master hangs the hair on the wall. Later, every woman who hears the story, visits, is affected, wants to make a wish leaves a lock of hair. Years later, the hair becomes full. It is said that the French woman came back but could not find her hair. According to some, hair is kept in a special place.
A lottery is held for those who want to come back to Cappadocia twice a year. Visitors to the museum are asked to write their information on paper and leave a lock of hair. Once the draw is done, the winners are invited to a one-week vacation and their expenses paid.
Also, our guests from Alanya will have the chance to make pottery with mud in a pottery workshop in Cappadocia. This event is only valid for a 2 day tour from Alanya to Cappadocia.
Devrent Valley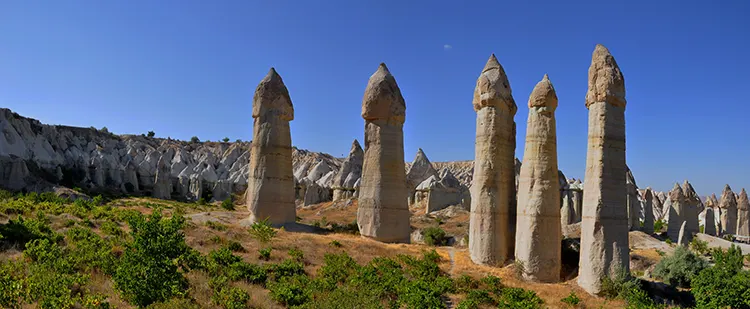 The distance to Avanos is about 15 minutes. On the first day of the 2-day Cappadocia tour program from Alanya, we are going to Devrent valley. This place is more commonly referred to as the Valley of Dreams. Because the fairy chimneys here have taken on animal figures, different shapes and silhouettes. While you are traveling through the valley, you realize the greatness of your imagination.
There are also camels brought by the local people in this valley. If you wish, you can have a souvenir photo taken for a certain fee.
Zelve Open Air Museum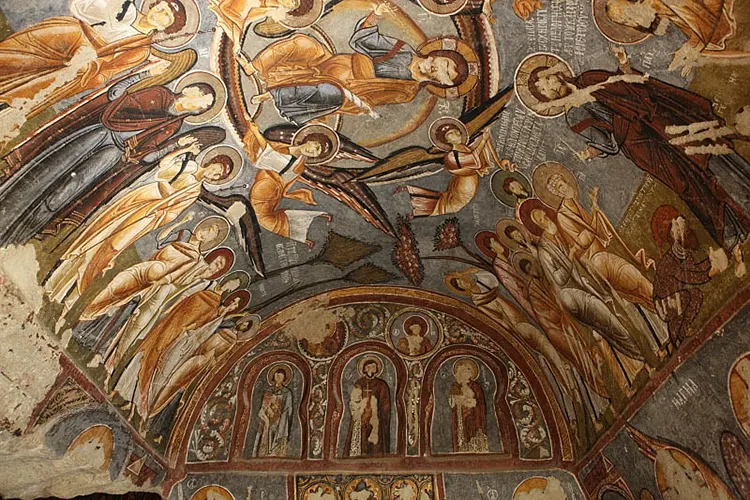 Located in the Zelve Valley, this museum allows us to understand how societies with different beliefs live in tolerance. Other important places in Zelve Ruins are Üzümlü and Balıklı Church, Direkli Church, Tunnel, Holy Pilgrimage Church, Monastery and Mill. Zelve Valley has a wonderful view.
Underground Ceramic Museum – Güray Museum

It is the first and only underground ceramics museum in the world where you can see the ceramics and pottery of different civilizations. It is located on an area of 1600 m2, 20 meters below the ground. Güray Museum has exhibition halls, social activity areas and different service units. It is also possible to watch the artists who make ceramics in the workshops.
Places to Visit in Cavusin
We have listed below the places you can visit and see in Çavuşin as part of the Cappadocia tour from Alanya.
Old Rock Mosque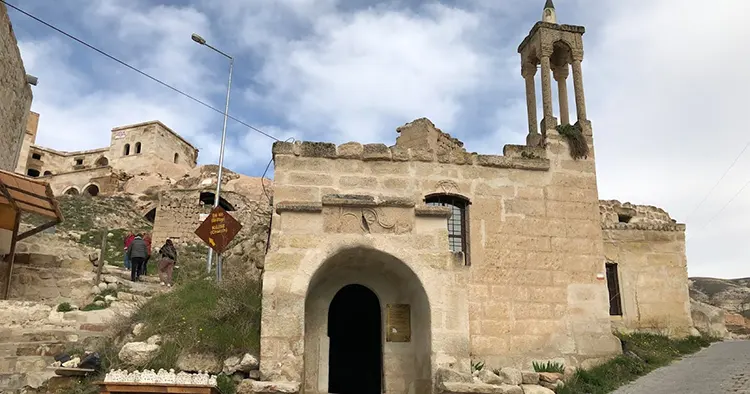 The building date is not knowing certainly. It is thought to have an area of 35 m2 when it was built. Later, it was expanded to 65 m2. It was closed for a long time due to the damage it suffered as a result of landslides. It was restored in 2011 and opened to tourists.
Priests Valley (Paşabagi Valley)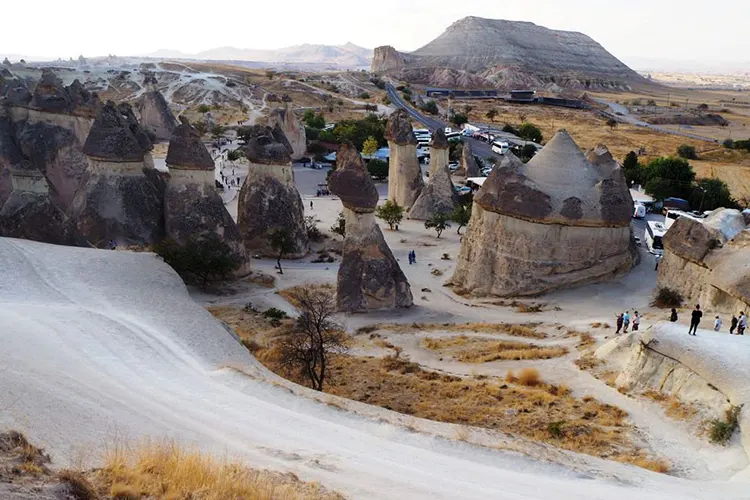 It is the valley where the clergy and priests settle for seclusion. That's why it's called the Valley of the Priests. People lived here until the beginning of the 1900s. In the 5th century, with this beautiful formation of nature, people built a living space for themselves by carving. There are chapels and churches.
There is a church and chapel built in the name of St. Siemon. The fact that the roofs are still there despite all that wear makes this place even more interesting. It is definitely one of the important places you should see. The first day of the 2-day Alanya Cappadocia tour includes a visit to the Valley of the Priests.
Gulludere Valley
Here, there are living areas such as wineries, churches, and teahouses. You can take a walk in this fabulous place that nature has given us.
Kizilcukur (Kizil) Valley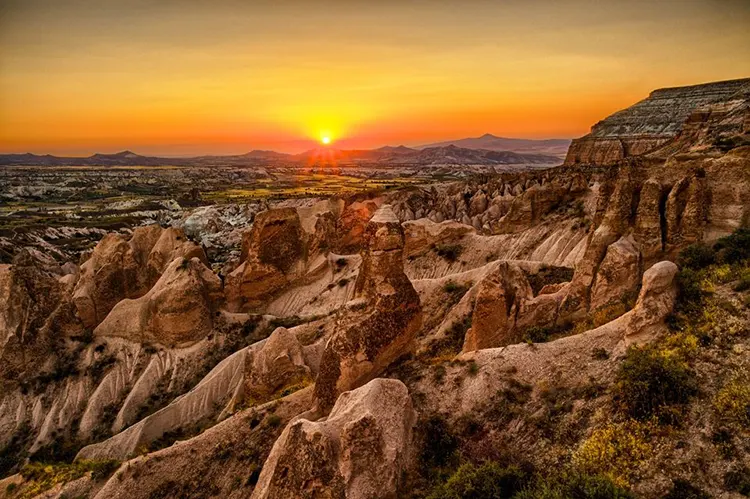 It houses the oldest churches of the region. It is the place where it is most enjoyable to watch the sunset.
Cavusin Church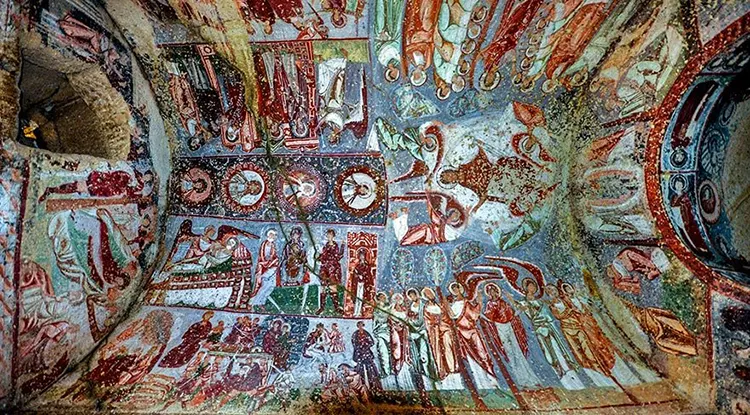 It is one of the most visited oldest churches in the Cappadocia region. We will set aside special time for Cavusin in the 2-day Cappadocia tour program from Alanya. The Çavuşin church was built in the name of Emperor Nicephorus Phocas. Its walls are filled with pictures describing religious events. It was included in the UNESCO World Cultural Heritage list on December 6, 1985. There are areas such as rock-cut tombs, places to pray, and observation places.
Church of Saint John the Baptist
It is named after the priest who baptized Jesus, so it is of great importance to Christians. Although it was restored many times, the front of the church was destroyed. We can say that it is the only structure in the region that reveals itself as a church. Other churches are listed below.
Church of the Three Crosses
Church of St. Jean
Church with the Cross
Church of St. Mary
Church with Colons
Church of Cemallar
Uzumlu Church
Hidden Church
The Church of the Food
St Paul's Church
Places to Visit in Goreme
It is one of the towns of Nevşehir's central district. It is the place where monastic life was lived from the 4th century to the 13th century AD. Due to its location, it is one of the most preferred places to stay. It is famous for its authentic hotels and restaurants.
Valley of Love - Valley of Lovers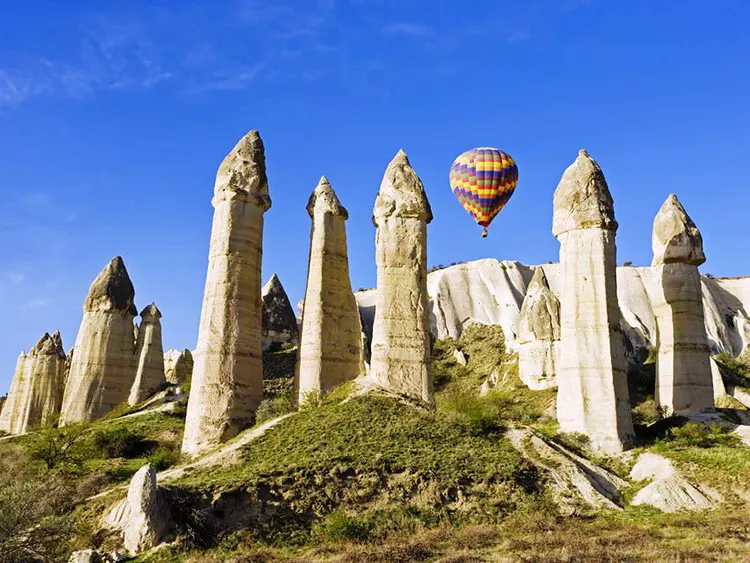 It is 4900 meters long. It is one of the places frequently preferred by those who are going to propose in Cappadocia. Another name is Bağıldere. It also covers the place that is Lovers Hill (Bağıltepe). Although the entrance of the valley is not suitable for vehicles, transportation is provided. We do not visit this place on our 2 day from Alanya to Cappadocia tour.
Goreme Open Air Museum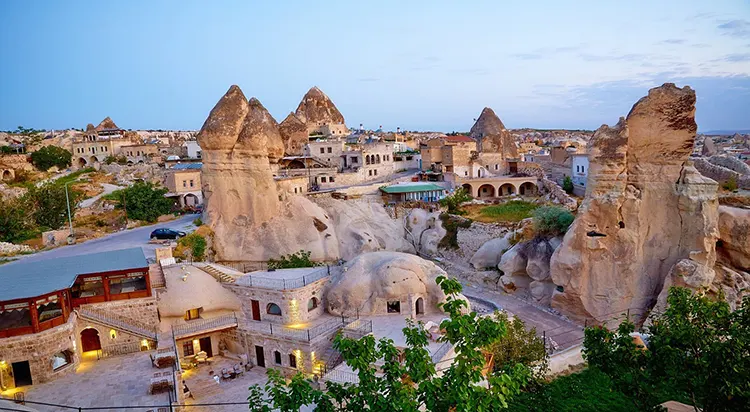 Göreme National Park has been on the UNESCO World Heritage List since 6 December 1985. The monastery is considered to be the place where education started. Kaya is a settlement city and there are Girls and Boys Monastery, Elmalı Church, Yılanlı Church, Pantocrator Church, Malta Crusader Church, St. Basil's Church, St. Catherine's Church, St. Barbara Church, Dark Church, Çarıklı Church and Tokalı Church. Inside a rock block, there are churches, chapels, dining halls and sitting areas.
It would be a waste to return without stopping by the Göreme open air museum after coming all the way from Alanya. Göreme open-air museum is one of the most important museums to visit in Cappadocia.
Places to Visit in Uchisar
Located in the central district of Nevşehir, Uchisar is a town a few kilometers away from Göreme.
Uchisar Castle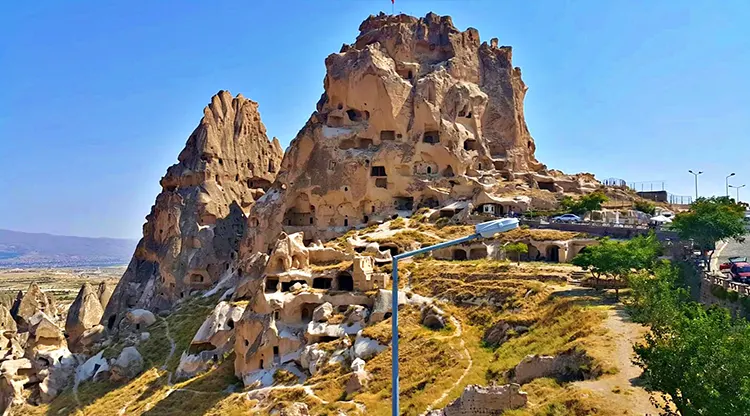 It consists of two fairy chimneys adjacent to each other. The larger of the fairy chimneys is popularly known as Ağan Castle, and the smaller one is known as Çavuşin Castle. It is the only place where you can feel Cappadocia under your feet and you can see the whole environment from a bird's eye view. It is one of the places you must see when you go from Alanya to Cappadocia. We will also come here in our 2 day Alanya to Cappadocia tour plan.
Pigeon Valley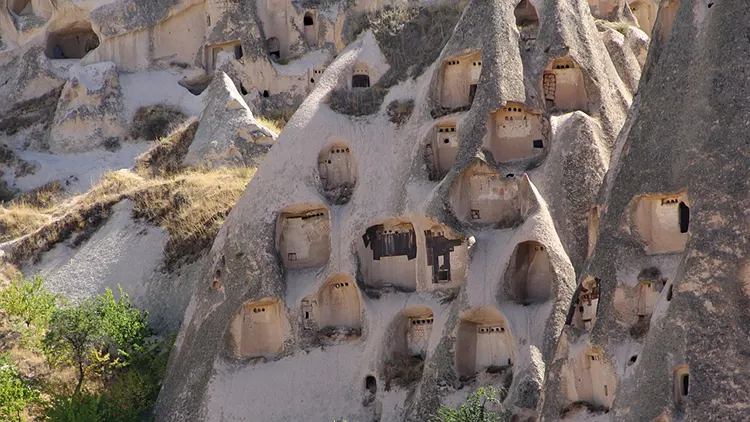 It takes its name from the nests made by the people who are engaged in pigeon breeding by carving the rocks. Agricultural workers who grow grapes realize that pigeon manure is beneficial. This also causes an increase in pigeon nests. You can still come across pigeons of different breeds. Güvercinlik Valley is also one of the places to go on a 2-day Cappadocia tour from Alanya.
Places to Visit in Urgup
Ürgüp region, one of the most well-known places of Cappadocia, will be visited on the second day of the Cappadocia tour program from Alanya. Below we have listed the favorite sightseeing places in Ürgüp.
Hope Hill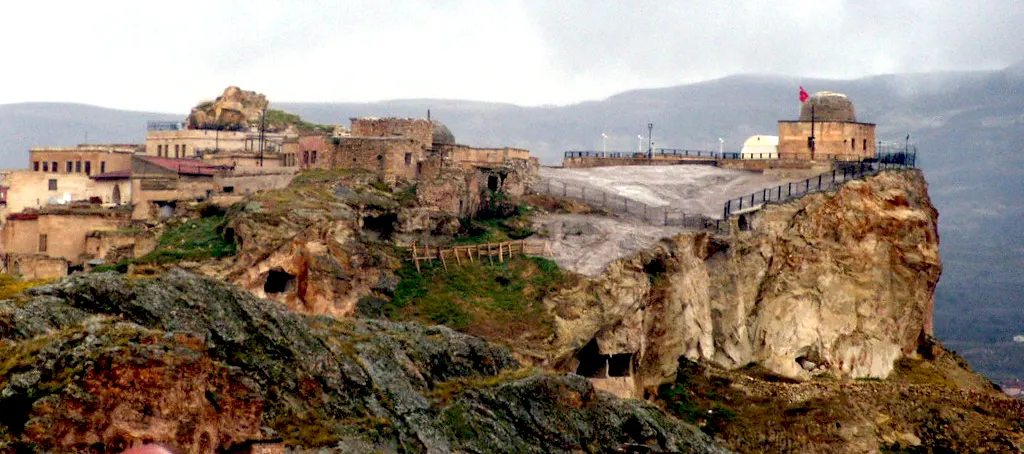 This hill, where you can see Ürgüp panoramically, is named after the tomb at the top. Since people made wishes and tied rags, its name remained as wish. It has been counted as a holy place since history and offerings are made here. There are Taka tombs.
Tahsin Ağa Public Library was previously located on Temenni Hill and you can still find books. This library has a beautiful story. Tahsin Ağa is actually a gardener. He was arranging and beautifying the garden so much that Sultan Abdülmecid commissioned him to organize his own library as well. Tahsin Ağa saves the excess books for himself and sends them to his hometown Ürgüp and ensures that a library is established there.
So who is the Donkey Librarian working at Tahsin Ağa Public Library?
When Mustafa Güzelgöz, a Vefa sports goalkeeper, comes to his hometown, he decides to stay in Ürgüp to teach football to young people with the encouragement of the district governor. He was assigned to the library and traveled from village to village to deliver books by donkey. He will receive the "World Peace Volunteers Service to Humanity Award" from Kennedy, the 35th President of the United States, who will now be known as the Librarian with the Donkey.
Asmali Mansion
It was built in 1887. This mansion, which has become famous in TV series and is curious, has received many visits. Only two rooms of the mansion are open to visitors. The mansion, which has Greek architecture, is quite deformed.
Gomeda Valley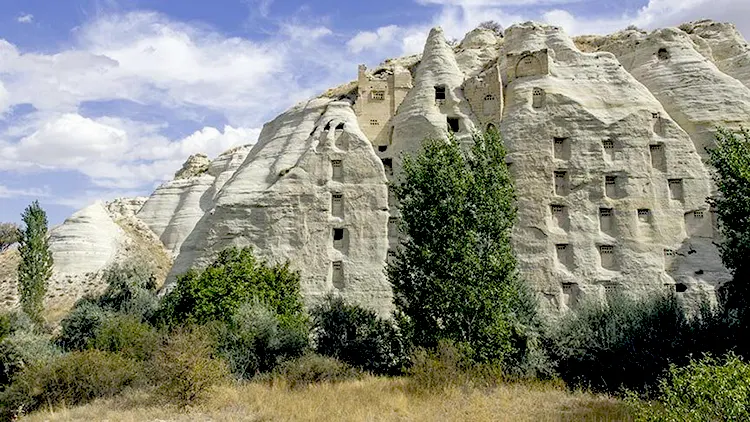 Gomeda Valley (Şeytan Stream) followed by Üzengi Valley has an area of 6 km. There are rock-hewn churches, houses, dark caves and a stream running through the valley. You will be accompanied by a great history while walking.
Three Beauties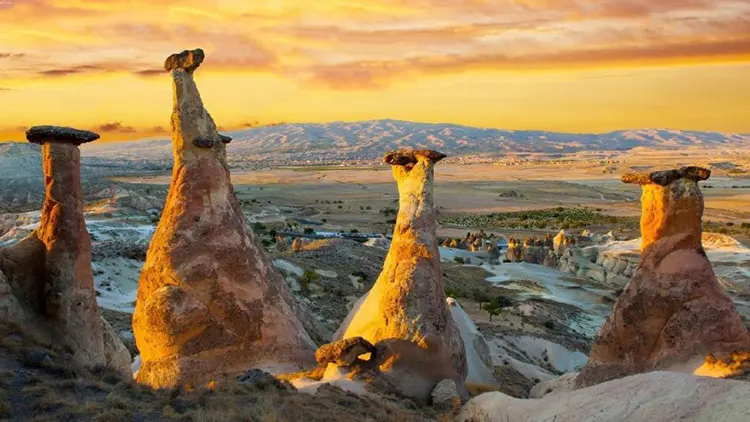 Wind and flood waters eroded the ground of the rocks but did not damage the upper parts. Thus, three beauties were formed. Their bodies are funnel-like and their hats are about to fall. It has many different legends. Everyone who goes to Cappadocia must have a photo with the Three Beauties. We will visit all three beauties in the 2 days 1 night Cappadocia tour from Alanya program.
Ortahisar Castle
First of all, fairy chimneys were shaped by human hands during the Etiler period. It has been used by many civilizations as a place of protection and shelter.
Cappadocia Underground Cities
Cities of people who took shelter underground to avoid war. Tremendous stories from a great history.
Saratlı Kırkgöz Underground City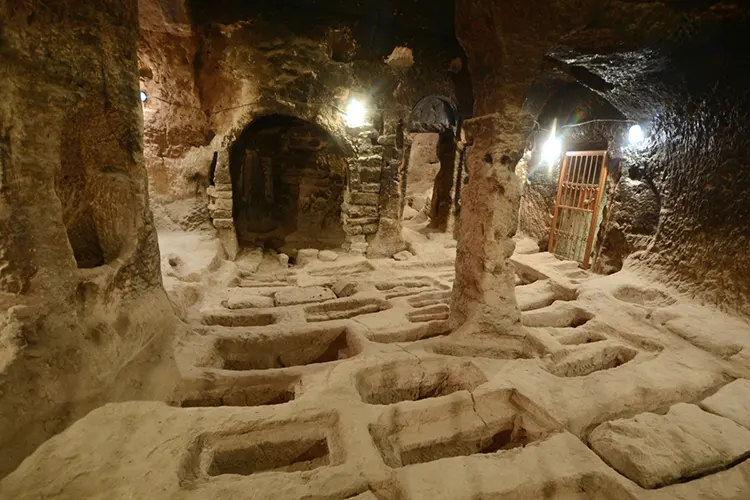 It is an underground city located 50 km from Nevşehir and 22 km from Aksaray. This is the first underground city to be visited on the Cappadocia tour from Alanya. Three floors were cleaned and opened to visitors in 2001. Siratlı Underground City, which has 40 rooms, has a toilet, bathroom, cellar, tandoor, lamps working with olive oil and lard, a water well, animal feeders and a barn.
St. Mercurius Underground City and Church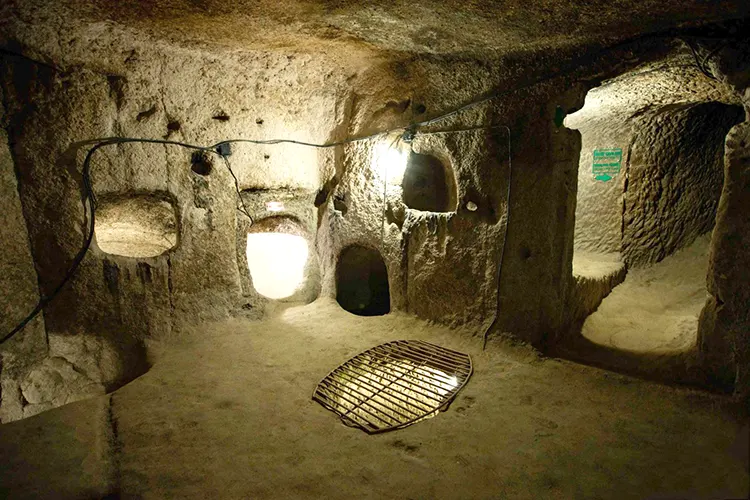 Saratli is also located. Saint Mercurius M.S. He was a commander who lived during the Roman Empire between 225 and 250 years and was exiled to Cappadocia when he announced his Christianity. Here his head was cut off and his body was sent to Egypt.
Many tombs and skeletons have been found in the Underground City and Church of St. Mercurius. 3 floors of the 7-storey underground city have been opened to visitors. It is one of the most visited underground cities.
Derinkuyu Underground City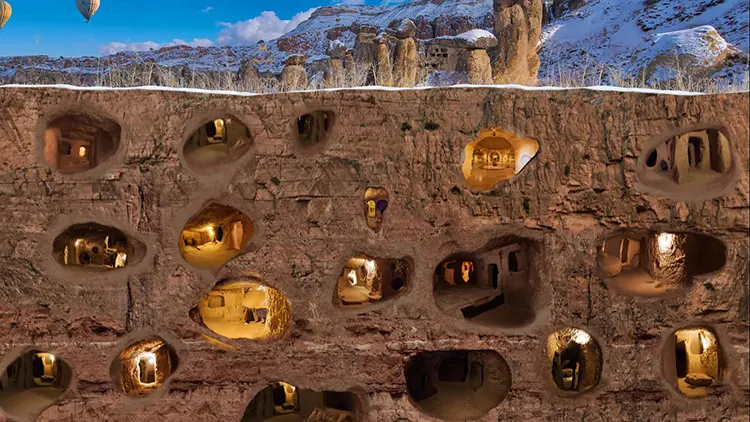 It is in Derinkuyu district, 30 km from Nevşehir. It draws attention as it is the largest underground city in the region. It is an underground city of 50,000 people, which was found in 1963 and opened to visitors in 1967. It takes its name from 52 drinking water wells at a depth of 60-70 meters. It is now possible to go down 50 meters, but it is said that the city is 85 meters.
The first Christians did it to protect themselves from the persecution of the Roman soldiers. In the underground city, there are supply warehouses, ventilation shafts, vineyards, churches, monasteries, water wells, toilets and meeting rooms, as they will have to live without going out for a long time. The main detail in Derinkuyu Underground City is that it also has a missionary school. They were able to clear only 8 floors, but the underground city is said to have 12-13 maybe more floors.
Let's see what's on the floors of Derinkuyu Underground City.
Entrance Floor: An area that has a narrow passage and is hidden from view from the outside.
1. Floor: Stable, Missionary School, Baptistery
2. Floor: Barn, Living Room, Kitchen and Supply Warehouses
3. Floor: A ventilation shaft down to all floors and a tunnel connecting to Kaymaklı Underground City, 9 km away
4. Floor: Supply Warehouses, Living and Sleeping Rooms
5. Floor: The ventilation shaft, the landing at the end of the tunnel on the third floor and the beginning of the tunnel connecting the 5th floor to the 7th floor
6. Floor: There is a tunnel connecting the 5th floor to the 7th floor.
7. Floor: The largest area of Derinkuyu Underground City. Meeting Hall, Burial Chamber, Church, Hall and Water Well.
Kaymakli Underground City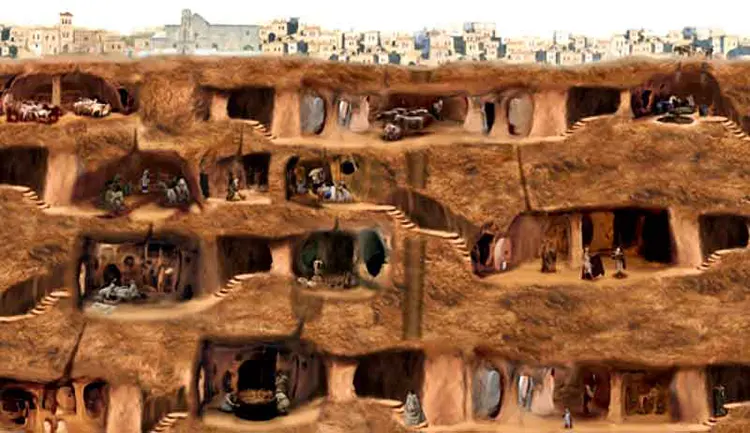 Kaymaklı Underground City, located in Kaymaklı town 20 km from Nevşehir, is half the size of Derinkuyu Underground City. Although it has 5,000 people, it is one of the most important underground cities. You can visit 4 floors out of eight floors. The ups and downs are indicated by arrows. Red arrows are for descent, blue arrows are for exit.
Now, let's examine the floors of Kaymaklı Underground City.
Ground Floor: Stable, Church and Living Room
1. Floor: Churches and Tombs
2. Floor: Kitchen, Supply Storage and Winery
3. Floor: Winery, Warehouses
Özkonak Underground City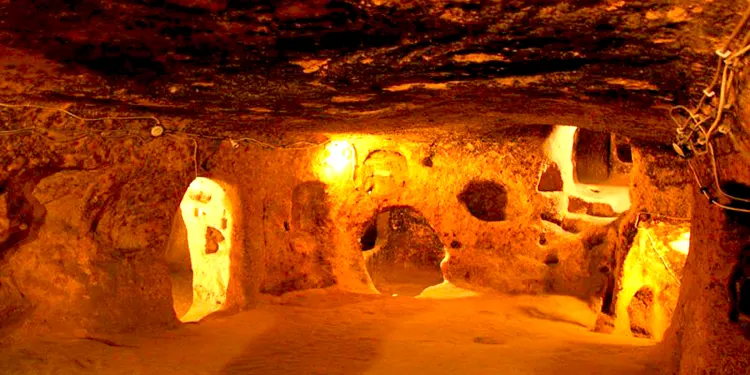 It is located in the town of Özkonak, which is 35 km from Nevşehir and 14 km from Avanos. It was opened to visitors in 1972. The important feature that distinguishes this place from other underground cities is that there are long holes that provide communication between floors. The stone gates of all the underground cities in Cappadocia were built outside to allow them to be opened only from the inside, and were inserted inside.
Here, a different defense system was made. After the bolt stone, hunting holes were made on the tunnel made for pouring hot oil on the enemy and shooting arrows. It has four floors. It has rooms with large areas. It has storage rooms, living rooms, 8 wells, 3 ventilations, 4 graves, wine and water tanks with jugs, and even a prison.
Thuja Underground City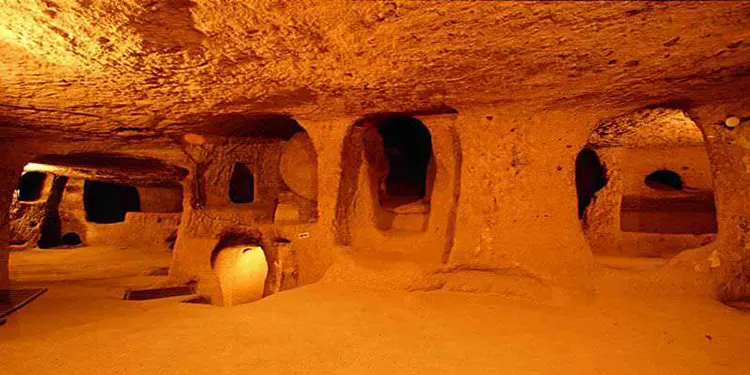 It is located in Mazı village, whose ancient name is Mataza, 18 kilometers from Ürgüp. Mazı village got its name from the thuja trees. Mazı Underground City has 8 floors and a capacity of 6000 people. It attracts a lot of attention with its flamboyant church. There are wineries, galleries, bathrooms, living rooms, water cellars and a barn. There are four entry points with a good defense system.
Tatlarin Underground City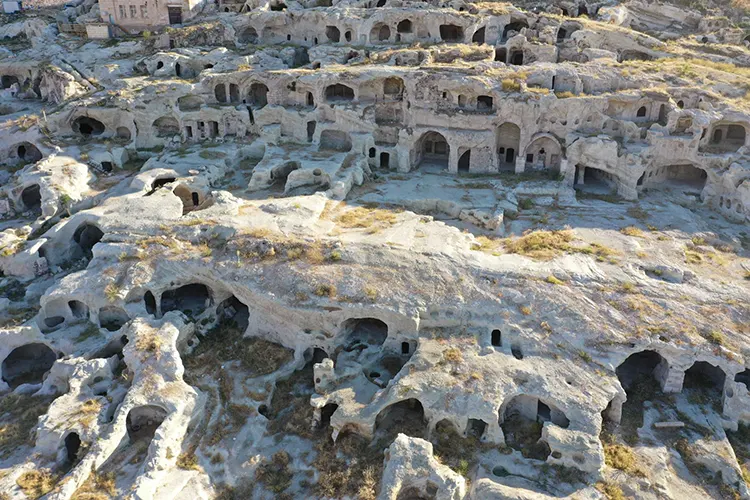 It is an underground city that was discovered in 1975 and opened to visitors in 1991. It is located in the Acıgöl district of Nevşehir. Although it has a large area, we can only see these places because it has been cleaned twice.
Three entries have been identified so far. It is assumed to have been used for military or religious purposes. Three skeletons were found in what is thought to be a dungeon. There is also a toilet. There are also supply warehouses, graves, a church and a barn here.
Complete list of underground cities in Nevşehir Province
Kaymakli Underground City
Derinkuyu Underground City
Acıgöl Underground City
Özkonak Underground City
The Underground City of Tats
Mazi Underground City
Sivasa (Gökçetoprak) Underground City
Aciksehir Underground City
Tilköy Underground City
Goynuk Underground City
Gore Underground City
Bogazkoy Underground City
Kurugol Underground City
Ozluce Underground City
Suvermez Underground City
Dogala underground City
Göstesin Underground City
Gumuskent Underground City
Abusağı Underground City
Yesilöz Underground City
Underground Cities in Aksaray Province
Monastery Underground City
Tears Underground City
Saratlı Kırkgöz Underground City
Saint Mercurius Underground City and Church
Ozancık Underground City
Geyral Underground City
Gaziemir Underground City
Konya Mevlana Museum (Mevlana Tomb)
This is the first place to visit on the way from Alanya to Cappadocia. It was opened in 1926, formerly known as "Konya Asâr-ı Atîka Museum". In 1954, its name was changed to Mevlana Museum. Mevlana Tomb Green Dome was built on four columns. It contains a semahane, a small mosque, dedegan cells, a kitchen and a fountain.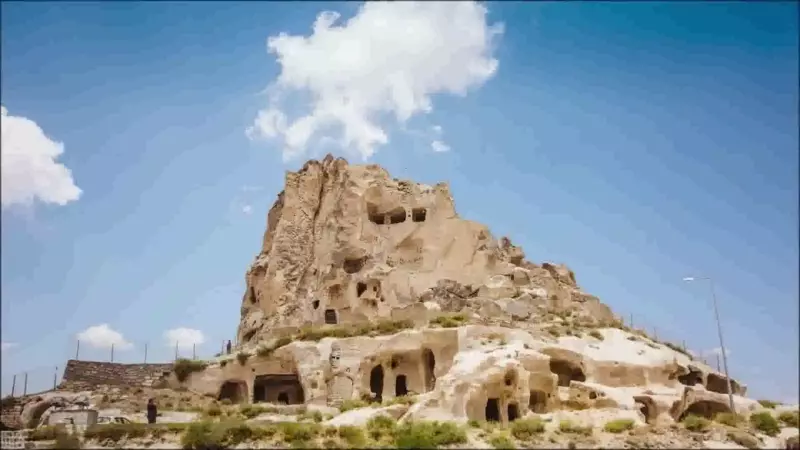 Cappadocia Tour from Alanya Reservation Form
Fill out the form completely for Cappadocia Tour from Alanya