Kids never forget this experience
Let Your Children Swim With Dolphins
It's time to meet our cute friends.
Swim with dolphins in Alanya Price
| | |
| --- | --- |
| Tour Days | Everyday |
| Tour Duration | 3.5 Hours (Transport included) |
| Transfer | (Transport included) |
| Pick up Time | 09:00 and 14:00 (twice a day) (The exact pickup time is determined by your location.) |
| Tour Begins at | 10:30 - 15:00 |
| Drop-Off Time | 13:00 - 18:00 (Approximately) |
| Instant Confirmation | Yes |
| Tour Guide | En, De, Ru, Tr |
| Included | Transfer, guiding and entrance tickets |
| Excluded | Personal expenses, drinks and foods, photo and video recordings, swimming with sea lions (optional) |
| Bring with You | Take your camera with you to take photo. We also recommend that you have sunscreen, swimwear and a towel with you. |
Experiences of Swim with dolphins in Alanya
Through establishing a one-on-one relationship with dolphins, you are going to witness their intelligence and emotionality closely
You will be able to feed the dolphin fish with your hands.
If you have any kid then then you will have an excellent experience for your child.
Program of Swim with dolphins in Alanya
Pick up from hotels.
Changing clothes in changing rooms
Supply of life jackets and other requirements
Informing about the rules to be observed.
Access to the pool
First meeting with dolphins.
Dolphin activities and feeding the dolphins program during 25 minutes
Selection of captured photos
Return to the hotels
Things to Keep in Mind
Before entering the pool, you should take off all your jewelry and accessories.
This excursion is one of the most preferred tours in Alanya. That's why we recommend that you book at least a few days in advance.
General İnformation About Swim with dolphins in Alanya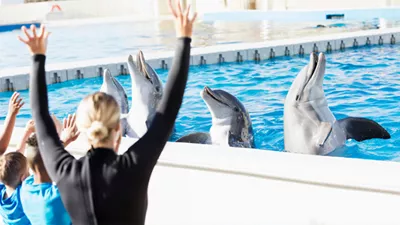 Who Can Swim With Dolphins?
Although it is a tour for children or older people, in some special cases, it is not allowed to enter the pool. It is unfortunately not possible to join the tour in the following situations
Children under 3 years old are not allowed in the dolphin pool.
Children between the ages of 4-6 can enter the pool with their parents.
Pregnant women are not allowed to enter the pool.
Epilepsy patients and people with Down syndrome should not enter the dolphin pool. (Except for therapeutic treatments)
People with open wound cannot enter the pool.
Did they not know swimming can swim with the dolphins?
You'd better know how to swim a little. If you do not know how to swim at all, you can swim with dolphins provided that it is in the shallow parts of the pool.
Don't worry. Dolphins establish good relationships with humans in their natural life. They strive to keep you above water. They definitely don't swim faster than you. They adapt to you. In addition, the instructor with you will help you in all matters.
Is It Safe to Swim with Dolphins?
The characteristics that make dolphins different from other mammals are their intelligence and emotionality. Trained dolphins do not pose a threat.
They constantly watch their surroundings. They are very prone to bilateral communication and are social creatures. They already live in nature as a group. Even among themselves, they have fun playing many water games underwater.
They tend to interact with people. They take care of you. Don't be surprised if they respond to you by making a sound when you speak. They don't act without instructors' . Therefore it is safe to swim with dolphins.
Don't Worry At The Pool.
First meeting with dolphins in the pool makes people excited who have never entered the dolphin pool before. It is of course exciting to be side by side with such large sea creatures in the water. In fact, dolphins are affectionate and friendly animals, just like cats and dogs. Nevertheless, you should not be rude or abusive to dolphins. You shouldn't overreact. You should be friendly to them. Be sure that they will approach you the same way.
They will come and greet you at the first meeting. Don't worry while the dolphin is coming towards you. Be sure, this moment will be the most unforgettable moment of your experience.
Dolphins, accustomed to humans, accompany you while swimming. They adapt your speed. They let you hold their fins. Let them drag you in the water. You will spend pleasant and unforgettable moments together.
Saying goodbye to the dolphin at the end of the session may be sad for you. You will feel a deep love within you. Don't forget to kiss her before leaving.
Benefits of Swimming with Dolphins.
Extensive scientific research has revealed the therapeutic benefits of spending time with dolphins. Especially positive effects on anxiety, various nerve diseases and sleep disorders have been observed.
In addition, positive results have been seen in long-term therapies for autism and cerebral palsy disease
Our general observation is that humans feel better after contact with these mammals. When we ask our guests, they say they feel more peaceful and calm. Especially its effect on children is not overlooked.
Swimming with dolphins is a life experience for children.
You have decided to participate in swimming with dolphins. This will probably be your child's first experience. Just as you feel a different energy when you first travel to a new country, your child will feel the same feel. This feeling will surely remain a meaningful memory that your child will not be able to forget throughout his life.
Imagine your child coming face to face with friendly dolphins and looking into their affectionate eyes
Fun moments spent with dolphins will strengthen your child's love for animals. Be sure, your child will ask you a lot about dolphins after the activity day.
Is swimming with dolphins ethical?
Of course, we do not advocate depriving dolphins of their natural habitat. However, when evaluated objectively, we should say that there are many dangers awaiting dolphins in today's world seas. Both their natural habitat has been destroyed and thousands die every year due to unconscious hunting.
The number of dolphins in the seas is decreasing day by day due to the deterioration of the ecological balance. For example, 3 different dolphin species have completely disappeared in the last 70 years.
Also, leaving dolphins to nature in parks is the same as killing them. Because these creatures were born and raised in dolphin parks. The rate of adaptation to their natural environment is very low. They can only be released back to the seas through private rehabilitation centers. This process takes a long time and their return yields 50% success. There are many examples of this in the literature.
What is the reason for the scars on the skin of dolphins?
These scars are definitely not ill-treatment or disease. Dolphins in the park are always together. It is part of their nature of dolphins to form scratches on each other through their teeth. Through these traces, they establish a kind of hierarchy.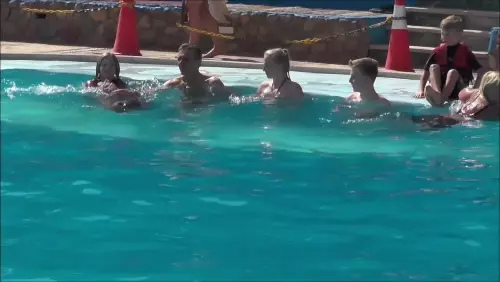 Swim with dolphins in Alanya Reservation Form
Fill out the form completely for Swim with dolphins in Alanya