Buggy safari tour in stream, dirt and muddy roads
On Taurus Mountain's Off-Road time With Buggy Cars
You can join the buggy safari tours either alone or with your partners, with 2 and 4 seater buggy car options.
Alanya Buggy Safari Price
Standart Ticket
Free Ride
( Ride separately from the convoy )
Family Buggy Car
( buggy vehicle for 4 person (price for 4 person) )
| | |
| --- | --- |
| Tour Days | Everyday |
| Tour Duration | 4 hours (Transport included) |
| Transfer | (Transport included) |
| Pick up Time | 08:20 - 13:20 - 15:30 (three times a day) (The exact pickup time is determined by your location.) |
| Tour Begins at | 09:30 - 14:30 - 16:30 |
| Drop-Off Time | 12:30 - 17:00 - 19:00 (Approximately) |
| Instant Confirmation | Yes |
| Tour Guide | En, De, Ru, Tr |
| Included | Insurance, transportation, tour guide, buggy car drive trainig, protective equipments, |
| Excluded | Lunch, all drinks, photos and videos ( if you want a copy) |
| Bring with You | All your clothes will be dirty and mud so we prefer you to bring extra clothes for you to change after the tour. Sun glassess and bandana is better to protect yourself from dust and mud (if you do not have, you can buy from your tour guide).On the other hand bring swimming suit for to swim in stream when we have had a swimming break. |
Experiences of Alanya Buggy Safari
You learn to drive a buggy car.
You will experience buggy driving in stream crossings, bumpy and muddy off-road roads.
You discover the pine-scented forests of the Taurus Mountains via buggy safari tour.
Program of Alanya Buggy Safari
Pick-up from hotels by shuttle vehicles
Arrival at Alanya buggy safari station.
Supply and control of protective clothing and equipments.
Briefing about the rules and driving during the Alanya buggy safari tour.
Test drives on the training track.
Starting the first buggy safari stage.
Swimming and resting break by the stream.
Video and photo shoots.
Starting the second buggy safari stage (return to starting point)
A break at the station. (Cafeteria, shower etc. )
Presentation of photos and videos taken during the Alanya buggy safari tour.
Return to the hotels by shuttle vehicles.
General İnformation About Alanya Buggy Safari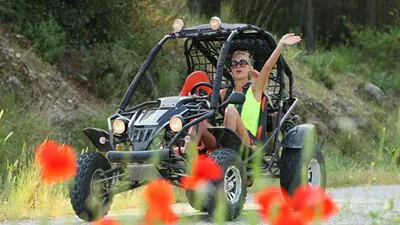 About Buggy Cars
Buggy cars are specially produced by considering the track conditions. All features of buggy cars are ready for you to drive the vehicle smoothly, safely and effectively on the ramps, stream crossings and muddy terrain on the track. The cars are close to the ground and wide so the risk of slipping and overturning is minimal. Steel cage around the vehicle provides high protection.
These vehicles are not used in the city. Therefore, there is no specific license class. Controls are simple.
About Safari Track
Alanya buggy safari track, on the slopes of the Taurus mountain range, located in the north of the 'Turkler' town. It is done about 3-4km far from the beach. On these slopes where the typical Mediterranean climate prevails, the vegetation consists of maquis and pine forests.
For you to have an enjoyable safari experience, the track route has been planned to include various active stream beds, muddy trails, and rugged terrain.
The track consists of two stages: round trip and return.
Between the two stages, there is a break at the edge of a river where you can swim and cool off.
Total track length is 25km.
Buggy Cars for How Many Persons?
There are two types of buggy safari vehicles for 2 people and 4 people. 4-person buggy cars are generally preferred by families with children and crowded groups. The number of vehicles for 4 people is limited. Therefore, we recommend that you inform your reservations a few days in advance in order to avoid supply problems during peak season.
we do not have a buggy car for single driver, we provide a two-person vehicle to our guests who want to use the buggy alone.
Is it difficult to drive buggy car?
It is very easy to use. It consists of steering, accelerator and brake only. Before the tour, theoretical lessons are given and test drives are made. The Alanya buggy safari tours are carried out in a convoy, it will be sufficient to follow the vehicle in front from a certain distance. In addition, buggy vehicles with assigned personnel to assist you in the tour convoy will accompany you when necessary.
Can I Join With Children?
Children under the age of 13 are not allowed to sit in the driver's seat. However, you can have your children join the Alanya buggy safari tour by sitting on the passenger seat.
When is buggy safari done?
Alanya buggy safari tours are held daily and run three times a day. The total Alanya buggy safari tour duration including transfer is 4 hours on average. When the transportation and preparation process is out, you use buggy car for an average of 2.5 hours.
Tour start and end times are as follows;
Morning Tour: between 09-00 - 13:00
Lunch Tour: between 14-00 - 18:00
Sunset Tour: between 16-00 - 20:00
Is There a Food and Beverage Service?
Due to the short duration of the tour, we did not include a standard food menu in the tour programs in order to save both cost and time. But for our guests who want to eat, we have a cafeteria at our station. Here you can find grilled and fast food type foods. There is a beverage sale in our cafeteria. You can buy your drinks before the tour starts. If you wish, you can also bring your drinks with you.
To discover the beauty of the area in a dynamic manner, consider the Alanya Buggy Safari a four-wheel drive all-terrain vehicle that can accommodate small children.
The all-terrain vehicle takes you through landscapes that are breathtakingly beautiful, including lakes, forests and pure waters.
You'll have plenty of opportunities to challenge yourself, which will certainly give you a thrill.
Buggy and Quad Safari Adventure From Alanya 2022
If you are looking for fun activities in Turkey, then take the Alanya Buggy Safari and Quad Safari Adventure. The buggy safari offers a thrilling ride in all-terrain vehicles that are safe enough for small children. It features scenic landscapes, lakes, forests, and purest waters. There are plenty of things to see and do on this buggy tour.
There are several exciting activities available in Alanya for people of all ages and backgrounds.
The Alanya Buggy Safari Tour isone of the most preferred excursion that will raise your adrenaline levels and fill your day with laughter.
You'll get to enjoy the wild landscape of the national park in this unique and fun way.
This trip will be perfect for anyone who loves adventure and wants to get away from the crowds.
Buggy Tour From Alanya
To experience the thrill of a Alanya buggy safari, you must book a tour in Alanya with the dailytoursinalanya.com. They will pick you up from your hotel and transport you to the activity area in air-conditioned minibuses. To ensure safety, the buggy safaris are conducted in mountainous terrain, and you will see the scenery and wildlife that will make the trip a memorable one. You will need to sign an insurance policy before taking part in the tour, so be sure to do this before you leave.
The Alanya Buggy Safari Tour is a 3-hours excursion that repeats three times a day.
The tour will increase your adrenaline level and fill your day with fun and laughter.
It is an excellent way to explore the wild nature of the national park and is perfect for families and groups.
You can experience the thrill of riding on an open-air two-seat buggy and crossing rivers during the excursion.
You can even enjoy a guided tour with the driver.
Buggy Safari Alanya
If you are looking for a fun and unique activity in Alanya, you should definitely check out a buggy safari. It is one of the most popular activities in this city, which is also quite safe, thanks to the automatic transmission. The Alanya buggy safari track is located in the mountains, north of the 'Turkler' town, and is approximately three to four km from the sea. Aside from the fact that you will experience the nature and culture of the area, it is also a good way to get some fresh air in the city.
Alanya buggy safari is a fun and exciting activity for all ages.
This adventure is organized in a natural terrain, and you will be able to take a test drive in a buggy before you take part in the real thing.
During the trip, you will get to see scenic landscapes, clear mountain rivers, and pristine lakes.
Additionally, you will also have the chance to take a zipline flight, or parkour court.
Whatever your preference, Alanya buggy safari is the perfect way to experience the best of the Turkish landscape.
Buggy Safari From Alanya Price
The Alanya Buggy Safari price will depend on the type of safari you choose. If you want an active, high-speed trip, you may choose to go on a buggy safari. This activity is perfect for beginners and experts alike. You do not need to have any previous driving experience or skills, as buggy safaris are automatic. Guests can even rent DVDs or souvenir photos. You may also purchase a guide's service or souvenirs.
There are two different types of Alanya buggy safari.
The first one takes place in the forest while the second is off-road. The first one is an easy-to-operate, powerful car.
The second one takes place in a natural area and is very scenic.
You can drive the buggy with children and adults in the same vehicle.
Each tour lasts about four hours.
You can take photos at the end of the Alanya buggy safari tour, if you wish.
Buggy Safari Adventure Tour From Alanya
If you're looking for an adventurous way to enjoy the beautiful countryside around Alanya Buggy Safari Adventure Tour is for you! The tour includes off-road driving in easy-to-use buggy cars. This is a fun experience for kids and adults alike. After the tour, you'll have time to purchase souvenir photos or DVDs. The experience is not only unforgettable, but it also offers a unique experience that won't soon be forgotten.
This Alanya Buggy Safari Adventure Tour starts with a rafting activity, followed by a 13-km dirt or wet path.
While on the path, experienced instructors explain how to drive the buggy cars and provide safety gear.
The tour will include several short breaks, including lunch.
There are no restrictions on the number of cameras, but the buggy driver cannot take any pictures using his or her cell phone.
Next Article: 
Alanya Quad Safari
Wikipedia:
Buggy
Alanya Buggy Safari Reservation Form
Fill out the form completely for Alanya Buggy Safari