Cover around you with the blue of the Mediterranean.
Pirate Boat Trips in Alanya are Here
Check out our boat tours with different concepts and options, find the most suitable boat for you or your family.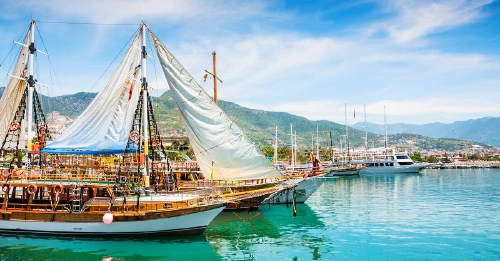 Daily Boat Tours
These are the tours that take an average of 6 hours and are organized in the coasts and bays around the Alanya castle. Transfer and barbecue menu are included in the price on all boats. In some boats; foam parties, rich animations, all-inclusive alcoholic beverage, water sports and fishing options.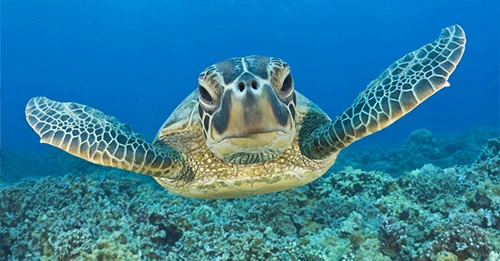 Diving Boat Tours
Dive at the diving spots around Alanya castle. Transfer, lunch is included in the price. There is also a tour concept for those who do not want to dive. There are two dives during the tour. For PADI, CMAS, TSSF certified divers, there is the opportunity to dive at different diving points and depths.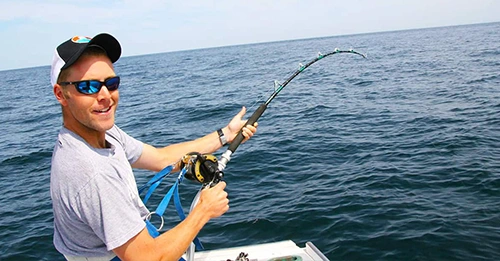 Fishing Boat Tours
According to your preference, you can join a fishing tour with small fishing boats or professional boats. According to the boat you choose; You can do bottom hunt or spinning hunt. Transfer and lunch are included. You can cook the fish you catch or take it with you.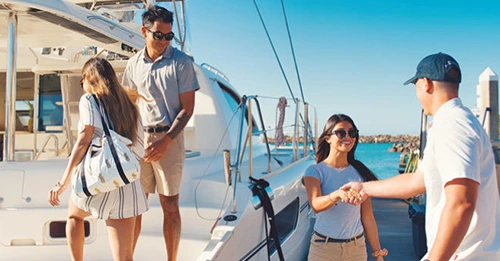 Rent a Yacht
Choose the one that suits you among various types and capacities of yachts. Yachts can be rented daily or weekly. The concept can be arranged according to your entertainment, meeting or celebration requests. Prices vary depending on the boat type, seasonal density and your demands. Please call us for detailed information.
DISCOVER THE UNIQUE BAYS OF ALANYA WITH HISTORIC PIRATE BOATS MADE OF WOOD.
Alanya Boat Trips at Good Prices
Take advantage of fun boat trips with foam parties, animation shows, sunset tours, cave tours, night disco parties, ultra all-inclusive concepts and affordable prices. Book now, pay during the tour.
---
Daytime Boat Tours
Animations, presentations, boat quality and service quality are different on each boat. Boat routes and tour times are the same.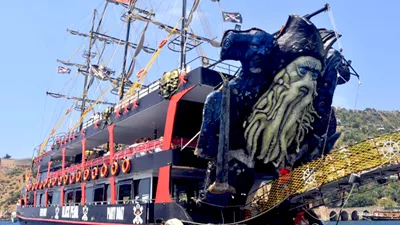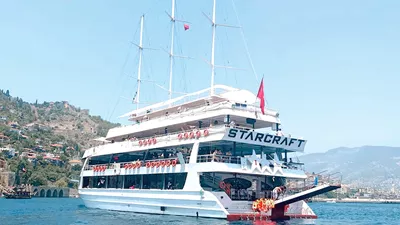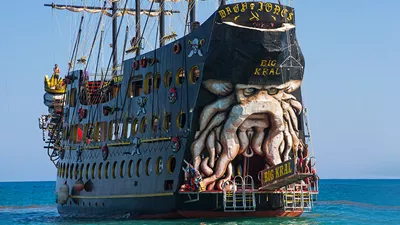 Sunset Boat Tours
Free food-drink options on each sunset boat are different. The quality and scope of the animations on the boats are different.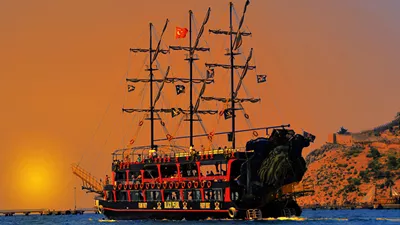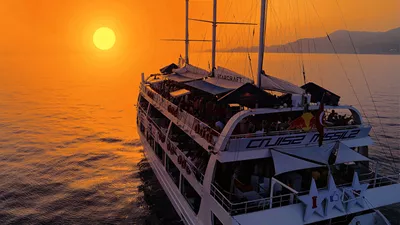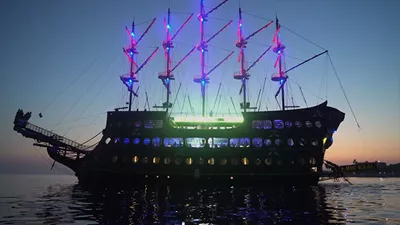 Night Party Boat Tours
The reason for the price difference is the food and beverage options offered free of charge, the quality of service-animation on the boats.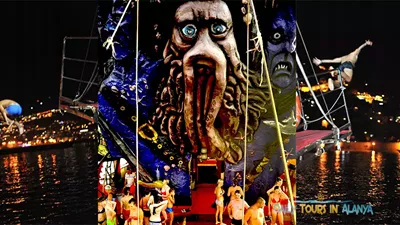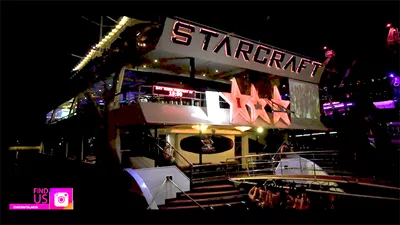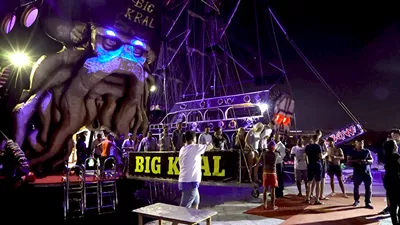 Alanya Tours with Nature and Culture
Alanya tours where you can see the nature and archaeological heritage of the Mediterranean.
Alanya Boat Tour
If you're looking for an Alanya boat tour, this article will help you find one that suits your budget. Learn about the different types of tours offered in the region, including a pirate boat tour and sunset cruise. You'll also discover the most memorable locations, from pirate ship to Cleopatra Beach. The pirate boat tour will also take you to the famous Lovers Cave, where legends say that jumping off a cliff fifteen meters high will make a couple inseparable.
Private Boat Tour Alanya
If you're planning to explore the beautiful coastal area of Alanya, a private boat tour Alanya is a great way to see the sights. You can choose from morning, midday, and evening options. While on board, you'll see the Red Tower, the Old Shipyard, and the Phosphorous Cave. You can also relax and enjoy the water, with a music system and a well-appointed bathroom and dressing room.
Alanya Boat Tours
If you'd prefer a more upscale experience, hire a yacht.
Chartering a yacht allows you to see the sights while kicking back and relaxing.
You can choose to spend one hour or more, and you can even request for alcoholic drinks to be served at your leisure.
You can also negotiate the terms of your charter with the sales manager of the private boat rental company.
Alanya boat tours is available without a deposit.
Alanya Boat Tour Prices
One of the best things about sailing in Turkey Alanya is that you can experience a unique sense of ownership and relaxation as you cut through the water spaces. You can even go on a pirate adventure! Prices for an Alanya boat tour start at about 15 EUR for adults and 8 EUR for children aged seven to twelve. Children under six years of age are free of charge. A private boat tour can be customized to fit your group's specific needs, and there are plenty of options available.
An Alanya boat tour begins at the harbor and takes you into the beautiful blue waters where you can see the ruins of the castle and grottos.
Once a thriving pirate base, the sea grottos became prisons for female captives.
You can also enjoy a barbeque lunch while you are on the tour.
The Alanya boat tour is inclusive of unlimited drinks and food.
The excursion lasts for approximately four hours and is a great way to experience the natural beauty of Alanya.
Alanya Sunset Cruise
If you're looking for something fun to do in Alanya, why not book yourself on an Alanya sunset cruise? Not only does this boat ride take place on the crystal-clear waters of the Mediterranean Sea, it also provides an interesting perspective on the city. Guests can enjoy an open bar, barbecue-style food, and live music as they cruise along the coast. After the tour ends, guests are dropped off at their hotel.
The boat that will take you on the Alanya Sunset Cruise is comfortable and features multiple decks, lounges, and modern sound systems. This makes for a romantic experience. There are also vegetarian options available for those who want them. This is an ideal way to experience the beauty of Alanya, away from the crowds. A sunset cruise on the Mediterranean Sea is an excellent way to experience the sights, sounds, and flavors of the city.
Alanya Pirate Boat Tour
If you're thinking of taking an Alanya pirate boat tour, you've come to the right place! This water-based tour will take you on a fascinating journey through Alanya's history. During your journey, you'll visit the cave of lovers, which is heart-shaped and is said to have been where ancient lovers hid because their relatives opposed their unequal union. You'll also have an opportunity to take advantage of swimming breaks in the Mediterranean.
The Alanya boat tour is a 6-hour adventure that takes you past some of the city's most famous sights and features an opportunity to explore nearby caves.
Guests also get to enjoy a delicious barbecue lunch, as well as three or four swimming opportunities.
The trip is designed for families of all ages, and will be sure to keep the whole family entertained.
If you're traveling with kids, consider taking the tour with a professional animator.
Pirates of Alanya Boat Tours
Taking a Alanya boat tour, is a memorable experience. Whether you're a family on a vacation or a couple on a romantic getaway, you're sure to find something to keep everyone happy. There are plenty of fun activities for children to take part in, such as water parks, animation, and even pirate yacht rides. During the early years of childhood, emotions are at their highest. Creating happy memories now is crucial to ensuring a lasting impression for the future.
The Kargicak Pirate boat tour will take you on a journey reminiscent of a pirate ship, complete with foam parties and beautiful beaches. There's also the opportunity to visit sea robber caves!
You can choose between an all-day or a one-day tour, depending on your needs and the time of year.
The tour ends with a champagne toast with the captain!
While the Kargicak Alanya boat tour will take you to pristine beaches and hidden sea caves, the Big Kral Pirate Yacht will take you on an all-round journey.
Alanya Pirate Boats, All inclusive Boats, Economic Boats
Things Should Know About Alanya Boat Tour
Which activities are on which boat. Which one is better for you.
Places to visit by boat in Alanya
With boats departing from Alanya harbor, you can see the caves with a castle, the historical Red Tower and the Alanya Shipyard. Also; Swimming breaks are given in famous bays and beaches in the west of Alanya. In these bays where you can create unique photo frames, you can participate in different entertainment and entertainment depending on the boat type you prefer.

Kızılkule and Alanya Shipyard
Red Tower was built in the 13th century. It takes its color from the egg yolk used in its production. It has an octagonal shape and is 33 meters high. The tower, which has an imposing appearance, is an important part of the Alanya skyline. Alanya Ethnography Museum is located on the first floor.
On the last 60 years there has been no any boat building or repairing in the shipyard . The shipyard has 5 windows. There are marvellous orange caretta carettas are living around. Swimming breaks are given in the clear and clean waters of the bay and the boat tour participants have the chance to see the caretta carettas up close.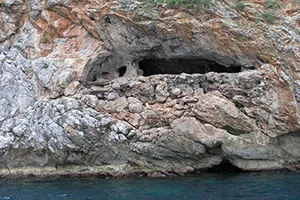 Cave of Lovers
It is a cave with a depth of 34 meters that can pass from one side of the Alanya peninsula to the other. In this cave, special shows are organized both day and night for those who participate in the boat tour. Since the cave height is 1.5 meters in some places, you sometimes have to lean forward.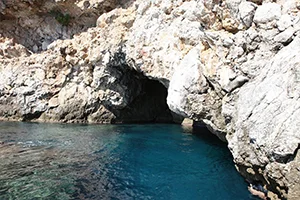 Pirates Cave
In ancient times it was used by pirates as a loot store. Its ceiling is 78 meters high and has a narrow entrance. It is possible to enter the cave with small boats.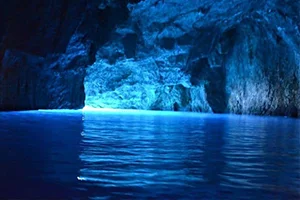 Phosphorus Cave
With its natural form and structure, it is the cave on the Damlataş Beach side of the Alanya peninsula. This beauty takes its name from its phosphorescent water. This is the marvellous light reflections of the nature. We will have a swimming break in the cave.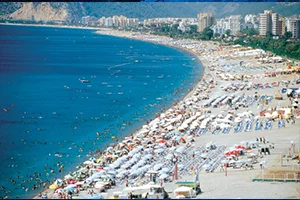 Kleopatra Beach
It was in the top ten in the 2018 world beaches list. It is the most popular beach of Alanya. He has never lost his blue flag label. It is named after the queen Cleopatra. It is a beach visited by every tour boat. Boats give a swimming break 50 meters far from the beach. It is also possible to participate in water sports activities on this beach.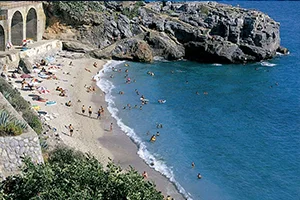 Ulaş Beach
A unique beach hidden between steep rock pillars. There are restaurants and promenade areas around the beach. Lunch is usually served at this beach. There is a small rock about 40 meters from the beach. Sea seals live on this rock. You have a higher chance of seeing the seals during sunset in the evening. Generally a quiet beach. The sea is clear. It is very suitable for snorkeling.
Activities on Boat Tour
Foam party
One of the unique boat entertainment is foam parties on the boats. Night boat tours are done with lighting and laser. It is really difficult to find a dance floor at foam parties due to the high attendance. Accompanied by DJ performance, you will spend pleasant moments in front of the view of Alanya. Alcohol is included in the price on some boats. For example, the boat named Star Craft serves in an all-inclusive concept.
Animations
Animation shows differ from boat to boat. Pirate shows are organized on pirate-themed boats. Some boats also have fire shows. In addition, activities are organized for your children. If animation shows are important to you; It would be better to choose large boats with high capacity.
Dance Shows
Professional dancers accompany the DJ performance during party hours. You will have fun with pleasant dance figures displayed in dance scene in boat and break times in the caves.
Water Sports
You can participate in water sports activities when you take a break at Cleopatra Beach. You can participate in activities such as jet ski, banana, ringo, water ski, parasailing. These activities are not included in the price.
Mediterranean Dolphins, Seals and Caretta Carettas
You may also see dolphins that are frequently can be seen around Alanya. You can see them if you are on your lucky day. Caretta carettas can be seen mostly on diving tours. In addition, some Mediterranean monk seals' nests are located on the tour route. Because they are protected, contact or approach is prohibited. Let's not forget that protecting nature is our main reponsibility.
Snorkeling
You can feel yourself in an aquarium in the clear and turquoise bays of the Mediterranean. You can observe the unique underwater structure of the Mediterranean by snorkeling in these bays.
Which Boat Tour Should I Choose?
We have classified the boats according to their features and services so that you can choose the right boat tour that will meet your expectations. This, you will be able to make the right choice for you and your family.
Daily Alanya Boat Tours
If your aim is to join the crowd and have fun as you wish; The best choice will be this type of tour. These are tours with programs full of animation shows specific to each boat, barbecue lunches, swimming breaks and cave tours. In addition, these boats organize disco tours with foam parties and sunset tours at night.
Daily Boat Tours Outside of Alanya
In this type of tours, it is possible to see historical places and natural beauties as well as entertainment. İf you join these tours from Alanya, you spend a certain amount of time to go to the tour location. Depending on the tour you will join, the transportation time can vary between 1 and 3 hours Transfer fee is included in the price on these tours.
There are 3 types of boat tours organized outside of Alanya.
Demre Myra Kekova Tours
Manavgat Tour
(Olimpos)Green Canyon Tour
Luxury Boat Tours
These are tours organized with an ultra all inclusive concept on large 4-storey boats made of fiberglass. Includes open buffet meal, unlimited alcoholic and non-alcoholic drinks and all activities available on other Alanya boat tours.
Peaceful and Calm Boat Tours
If crowd and noise are not for you; you should definitely choose this type of boat. The general concept in these types of boats is based on calmness. They are smaller boats compared to other tour boats. Passenger capacities are between 10 and 30. Perfect for sunbathing in a calm environment and enjoying the blue waters and nature.
Private Boat Tours
Just spend time as you wish with the boats allocated to you. You can join these tours with ultra luxury yachts or small wooden boats. You determine the route, the menu and everything else you want. Private boat tour prices are relatively higher than other boat tours. But you are the captain of the boat, you will decide the route of the boat with captain.
Fishing Boat Tours
These tours focus on fishing. Therefore, it is better to do the tour at sunrise and sunset times when the fish are intense. You can join the tour with small fishing boats or professional fiber fishing boats. You can either hunt with the bottom fishing line or hunt for spining fishing discipline. the choice is yours.
Diving Boat Tours
It is made with fully equipped diving boats. Animation and entertainment are not performed on tour tours. There are two dives, morning and afternoon. The tour fee includes lunch and transfer. Various underwater shows are organized according to the diving boat you choose.
Alanya Boat Tour Prices
Boat tour prices different according to the service provided and the route. Prices are also affected by seasonal density. For example, in July and August, prices are higher than in other months. It is also important to book the tour in advance during these months. Because it can be difficult to find a place in boats.
Boats Depare Points
There are two yacht harbors in Alanya. It is Alanya Marina at the west entrance of Alanya. The port for daily tour boats is the port in the city center. Another feature that makes this port different from the marina is the themed boats in the port. There are visual decorations on almost all boats in the harbor. There are nearly 100 boats, large and small, in the port.
Visiting this port is a pleasure both day and night. It has a lively atmosphere with themed boats illuminated in the evening, boats for night disco tours, illuminated palm trees and adjacent nightclubs.
The harbor, which is just in the heart of the city, is one of the places that should be visited in Alanya. Here it is marvellous to see the ornate boats and take a nice walk among the palm trees.